2007 CEO Forum: Greenhouse Gauntlet
Tackling climate change is a monumental challenge. Power-company CEOs discuss long-range plans for a climate-friendly energy economy.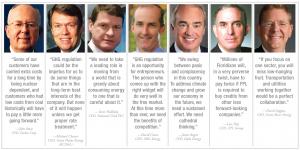 numbers we can plug into our assessments, and it will drive the development of technologies we can use to solve this problem."
As always, however, the devil is in the details. And for every proposed scheme of GHG regulation, power company CEOs worry about a host of details.
For example, various utilities and power generators argue about how emissions credits should be allocated under a federal cap-and-trade program like the existing Clean Air Act program for SO 2. Companies that have been investing to reduce their GHG emissions want to ensure they get credit for those efforts. But those that recently have built or acquired coal-fired power plants don't want to be penalized for investments prudently made within the existing regulatory and cost-recovery framework.
More broadly, power companies fear legislators will target them as the biggest, most obvious source of GHG emissions—with disproportionate effects on electricity prices.
"We Americans consume a lot of energy, and it's not fair to put the crosshairs on utilities," Saggau says. "This is not an industry-specific problem. It's much broader and we have to look at it in its totality, across all industries."
At stake are hard assets and revenue streams worth trillions of dollars, which no one will surrender lightly.
To protect those assets, power-company CEOs have thrown down the gauntlet, promising a mortal fight against policies that threaten their companies. At the same time, however, they are challenging regulators, shareholders, and their own employees to realize a new regulatory model in which the market will reward climate-friendly investments.
"We have a perfect storm of fuel prices, environmental concerns, and technology solutions to create a real opportunity for efficiency," Chesser says. "Utilities are the only companies that can make this happen on a broad scale, because of our financial capabilities and our credibility with customers. And the only way we will do it on a broad scale is if we can be made whole in terms of earnings."
To better understand how the industry's leaders are facing the greenhouse gauntlet, Fortnightly's 2007 "CEO Forum" focuses on GHG constraints and their effect on companies' strategic outlook. Interviews with CEOs at a diverse group of power companies—Duke Energy, FPL Group, Great Plains Energy/KCPL, Exelon, Great River Energy, National Grid, and NRG Energy—revealed many differences in viewpoint, but at least two common threads. Namely, power-industry CEOs are optimistic about the long-term opportunities climate change presents. And they also are determined to make sure any GHG-reduction mandates are affordable, effective, and fair to their stakeholders.
Climate Payoff
Fortnightly: What does climate change mean to your company? How will it affect your shareholders, customers, and employees?
John Rowe, Exelon: Simply put, we think the climate issue is real, and solving it will require action over several decades. The sooner you start action, the better. You need to start modestly but precisely, and ratchet constraints up so people build the costs into their investment decisions.
Because we are mostly a nuclear company, with a small amount of coal in the East and some gas around the country, we will be relatively