The Hidden Costs of Sarbanes-Oxley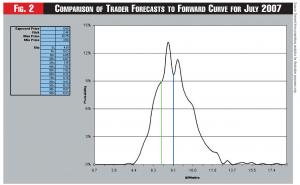 change its behavior and possibly become less effective in its core operations.
Unintended Consequences
These unintended consequences of Sarbanes-Oxley compliance could far exceed the specific costs of additional audit procedures and internal compliance staff. Energy merchants make most of their revenue on the assets they operate. Investor-owned utilities own generation plants, pipelines, and gas storage. Oil companies own refineries. These assets operate at varying degrees of financial efficiency depending on the operator's understanding of the markets. Depending on the accuracy of price forecasts over the operating period, a great deal of opportunity exists for additional profits.
In fact, one primary argument for taking on the risk of a sophisticated energy trading function is that it increases the price discovery for the entire organization. If the traders are active in the market, they know where the markets expect prices to be over the next few months based on where the forward curve is trading. They also know the level of volatility in the market based on the implied volatilities derived from the options trading. Likewise, if traders are knowledgeable about their organizations' assets, they have a better understanding of the supply and demand fundamentals in their markets and can derive a better forecast of these markets.
Ahead of the Curve?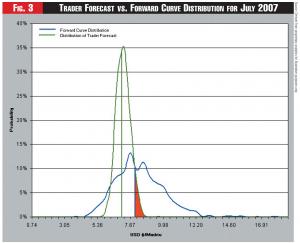 Unfortunately, there is a disturbing trend within these organizations. Traders have abused their position in an attempt to prop up their own profitability by providing market prices that were not a reflection of the market as much as they were an attractive sliver of additional profitability on their own position. Sure, traders have been doing this forever. Some have gone to jail for it, but that has not stopped others from trying to accomplish the same goal. The reaction from the Sarbanes-Oxley crowd has been to build a "Chinese wall" between traders and the MtM function. Many have gone so far as to exclude any trader insight from the curves generated for MtM purposes.
Given the history of trader abuse, this seems like a prudent move. Go out to the brokers, get their quotes, and use them to mark the books to market. Put all sorts of controls around this process, make it independent from the front office, and build IT infrastructure around it. Then, archive the data. You now have a stable, well-controlled process and a database full of data.
The problem is, this process and the resulting data ignores what the company knows about the market's fundamentals. The data set is completely external and does not take advantage of the idiosyncratic position of the integrated energy merchant. Furthermore, all the energy put into creating this process and maintaining the data leaves little time to create a second set of prices that can be used for internal asset planning and operations. Typically, the company may recognize the flaw, but have no capacity to change it. The result is that the asset operators have to settle for the external curves in their planning processes. They miss out on the additional profits gained by having a better view of the markets and operating their