U.K. Carbon Lessons
Emissions regulations are reshaping the U.K. and Irish energy markets.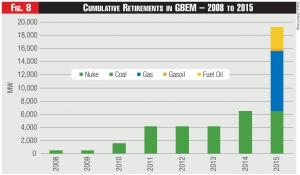 additions in the short term will be sufficient in terms of megawatts to maintain reserve margin levels of around 20 percent. The longer-term outlook is more pessimistic—particularly if nuclear-plant retirements proceed as planned.
Approximately 20 percent of total generation in the GBEM is met by nuclear plants. Installed nuclear capacity in Great Britain totals 11.5 GW— 14 percent of the country's total capacity. Around 6.5 GW of Great Britain's nuclear capacity is scheduled to retire between 2008 and 2015 and another 1.1 GW by 2020, reducing the total installed nuclear capacity in the GBEM by almost two-thirds, to 3.9 GW.
As in the United States, a growing consensus among U.K. industry players and the current government encourages the construction of new nuclear plants to replace the retiring fleet and provide zero-carbon generating capacity. And also like the United States, private investors are nervous about committing to nuclear construction in the absence of clear government support.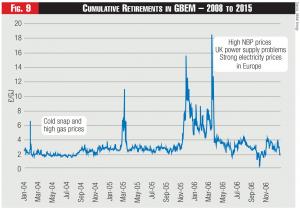 The future of nuclear power represents a pivotal variable affecting long-term supply security in the U.K. and the United States. And as carbon constraints intensify, gas demand rises and reserve margins shrink, volatility in power prices will become a major risk affecting resource-planning activities on both sides of the Atlantic Ocean.