The Wonderful Curse
Production constraints and demand pressures mean high gas prices are here to stay.
growth can be characterized as "predetermined"—at least through the 2012 to 2015 time frame. This will apply continuous pressure on gas markets and fuel suppliers. It also will further squeeze industrial gas consumers, who are relatively price sensitive, resulting in only flat industrial gas demand during the forecast period.
The view presented above remains the baseline scenario; however, in the past two years, utilities and independent power producers (IPPs) have been increasingly proposing alternative sources of generation. What was certainly the base-case view one or two years ago, is now being viewed with diminished certainty: The record high gas fuel costs, strong industrial demand destruction, global and political uncertainty of supply, and the development plans noted above will require close scrutiny in the coming years. High fuel prices already have begun taking their toll on the industry, encouraging growth in proposals for alternative generation supply—especially coal, nuclear, and renewables. As a result, natural-gas suppliers—and LNG suppliers in particular—might find themselves out of the market, along with generators holding large amounts of gas-fired capacity.
Although we certainly live in interesting times when it comes to gas prices and volatility, gas prices always have been relatively volatile, driven primarily by unexpected weather events. From mid-1985 to mid-1993, the EIA's survey of monthly average wellhead gas prices averaged $1.78/Mcf. From Order 636 in 1993, which opened up the interstate gas price network and increased competition, gas prices remained mostly in the $2 to $3/MMBtu range, until the 2000s, when the decade-long drilling recession ended and supply/demand was more or less balanced.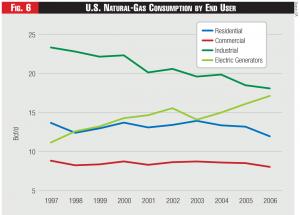 The historical record of gas prices at the Henry Hub—North America's main gas-trading hub and delivery point of the NYMEX futures market—shows key events, primarily weather-driven, affected prices over the last 10 years (see Figure 3) . Most prominent was the effect of Hurricanes Katrina and Rita on market prices and the impact from cold spells pushing Henry Hub prices into the $8 to $9/MMBtu range. Most recently, record cold in January and February 2007 caused a bump in prices, followed by a collapse due to high LNG imports and high storage levels.
Changing Gas Sources
Several market forces have upset conventional views of the natural-gas market in North America. The market is transforming from a continental gas market, mostly disconnected from world LNG trade, to a more integrated global gas market with increasing dependence on various global LNG suppliers. This transformation has begun, in part, due to rising supply cost options, conventional reserve depletion, and because of the impending growth in gas demand for electric-power generation.
By 2020, more than 21 percent of U.S. gas supply will be sourced from LNG, with less than 10 percent coming from pipeline imports. By 2030, LNG supply will increase to nearly 26 percent of total requirements while less than 8 percent will come from North American pipeline imports (see Figure 4) .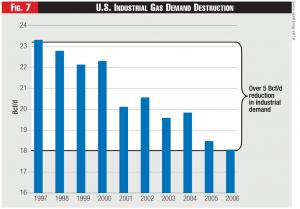 By 2011, North America is expected to overtake Europe, currently the second largest global importer of LNG. In that year, LNG imports likely will exceed 10.3 Bcf/d to the United States, Mexico, and Canada.