The Wonderful Curse
Production constraints and demand pressures mean high gas prices are here to stay.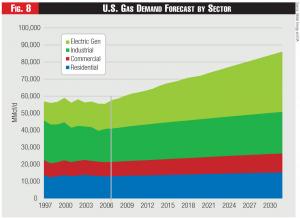 While delays in building new LNG facilities already under construction could slow down this growth, North American LNG trade will increase substantially (see Figure 5) .
Given expectations for strong gas demand through the forecast horizon, the supply scenario is affected by the Gas Exporting Countries Forum (GECF), a supply cartel similar to OPEC. The idea of a real gas OPEC was first floated in 2002 by President Vladimir Putin of Russia and backed by Kazakh President Nursultan Nazarbaev. From March through April 2005, the GECF, with headquarters in Algeria, met to discuss establishing a "fair price" for the international trade of LNG. And in January 2007, Russia (the world's largest gas exporter and largest holder of gas reserves) signed a cooperation agreement with Algeria (Europe's largest LNG supplier) in Tehran. The countries that comprise GECF hold nearly 73 percent of worldwide gas reserves and 41 percent of production.
Within North America, production and supply sources compete directly with LNG and imported pipeline gas. Canadian net exports will remain relatively flat until later in the forecast period, when Alaskan gas routed through Canada begins to flow. Several U.S. basins exhibit production declines, while others grow—notably the Rockies. The forecast for offshore Gulf of Mexico production shows a near continuous decline. In part this is one of the key reasons given by project sponsors for developing new LNG regasification terminals along the Gulf Coast. Building back deliverability means the existing network of offshore, onshore, and interstate pipelines will remain well utilized in the future.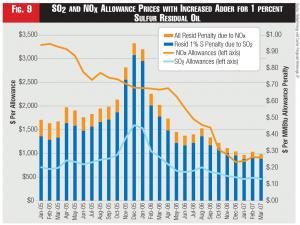 Because onshore and offshore Gulf production represents nearly 36 percent of current domestic production, replacing part of that decline from other sources will be challenging. Furthermore, many of the offshore Gulf conventional wells lie in deep water and experience exponential decline rates, some with a first-year decline equaling 50 percent of the initial production rate. Thus, offshore Gulf production is relatively expensive.
Generation Fuel Demand
Since 1997, the overall gas consumption for U.S. end-use sectors—residential, commercial, industrial, and electric generators—has declined by 1.9 Bcf/d from 57 to 55.1 Bcf/d. Residential and commercial consumption combined, referred to as core demand, has remained relatively flat, while electric generation and industrial consumption materially have changed. Electric generation demand has grown by about 6 Bcf/d, a nearly 54 percent rise from 1997. However, the much more price-sensitive industrial-sector gas demand has fallen 22.5 percent from 23.3 to 18.0 Bcf/d (see Figure 6) . One very bright spot, however, is the rapid growth in gas usage due to ethanol production.
Persistently high natural-gas market prices have meant price-sensitive gas load, especially industrial consumers for both energy and feedstock, have reduced (or curtailed) demand. Many feedstock users producing nitrogen and urea as well as other large petrochemical consumers cannot compete globally in many instances with competitors whose gas feedstock prices are less than $1/MMBtu, as is available elsewhere. This resulted in significant demand destruction between 1997 and 2006. The initial price shock, measured between 1997 through 2001, resulted in an initial 3 Bcf/d response. However, industrial gas demand has fallen further in the last two