Energizing the Big Apple
Uncertain market design affects generation investment planning.
to maximize their own revenues. However, the conventional wisdom that all of the capacity has been transacting in the spot market is not accurate.
The May 2003 implementation of the downward-sloping demand curve for the spot auctions provided some level of discipline in the first two auctions, as market participants now know that deviating too far from the anticipated spot-market outcome is not rewarded. For example, prices across the three markets dramatically converged in 2003 and stayed that way through last winter's auctions (see Figure 3) . So, even though capacity is offered in all three auctions, the existence of a known range of prices in the spot auction so far has provided price stability in all three auctions. It is notable that this price discipline is most evident in New York City—there still is more price disparity among the three auction results for both Long Island (NY Zone K) and the balance of the state. 3
The price discipline has come in part from many of the assets in New York City having been divested from Consolidated Edison's ownership. So now these assets are subject to FERC market-mitigation measures, including capacity market price caps. These so-called "divested generation owners" or DGOs, have tended to offer their capacity near their FERC-approved price caps, providing much of the apparent price stability. A recent FERC ruling now allows DGOs to enter into bilateral contracts (previously they were limited to selling capacity only in the auctions), but they still are required to offer all unsold capacity into the capacity auctions. Price caps (technically offer caps) still exist for all assets that could be used to wield potential market power, but now are structured around both a ceiling offer as well as an individual generator's "going forward costs." The net impacts of this latest ruling are yet to be seen, but early indications are they will be significant.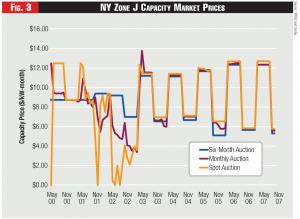 The results of the summer 2008 strip auction were posted on the NYISO's website on April 2. The summer 2008 strip auction for Zone J resulted in a price of $6.50/kW-month, nearly half that of summer 2007, and the volume was about 495 MW, 74 percent less than in summer 2007. The results of the first monthly auction were posted on April 15, and the May monthly price is $6.52/kW-month while the volume is only 903 MW. Clearly, most of the capacity is either tied up in bilateral contracts or is moving to the spot market. The spot- market results were not known when this article was submitted, but will be available near the publication date.
Zone J's Future Resources
A capacity market construct that involves periodic administrative tinkering leaves one major question—how to induce new resources to serve growing demand? The New York State Reliability Council annually reviews supply adequacy requirements for the state and for N.Y. Zone J. For the 2008 capability year it has recommended setting the local resource requirement at 79 percent, down from last year's 80 percent value. 4 This means that 79 percent of the resources needed to meet peak hourly demand