The Fortnightly 40
during the Big Build. In testimony last November, regulatory analyst Roger Morin told the New Mexico Public Regulatory Commission, "Utilities' dividend policies have become increasingly conservative as business risks in the industry have intensified. Dividend growth rates are unlikely to provide a meaningful guide to investors' growth expectations for utilities in general."
Instead, the most useful metrics will be others that drive a company's F40 ranking—namely profitability from continuing operations, ROE, ROA (return on assets) and sustainable earnings growth (See sidebar, "Behind the Fortnightly 40 Rankings").
Over time, these metrics will be determined by a company's fundamentals, such as its markets, its investment strategy and its ability to execute on that strategy—especially in regulatory affairs, customer service and financial-risk management.
Commodity Plays

Few companies in the F40 ranking are diversified far beyond the traditional power and gas supply chain—and those that are diversified have compelling strategic reasons for those investments.
MDU Resources, for example, earns about a quarter of its income by selling construction materials, such as gravel, cement and asphalt—a business segment that grew out of MDU's nearly 70 years in the coal-mining business. Likewise, MDU has been in the oil and gas E&P business since the 1920s—which it has extended with gas pipelines and distribution companies in seven states, from Minnesota to the Pacific Coast. Last year the company acquired Cascade Natural Gas, with operations in Washington and Oregon, and now MDU is working to acquire Idaho-based Intermountain Gas.
"Our vision is to grow the corporation based on our employees' expertise," says Terry Hildestad, CEO of MDU Resources. "We've never varied from that basic principle. While we've grown in areas that are core to us, both organically and through acquisitions, we've maintained a strong balance sheet." The company's strategy has paid off for shareholders, with earnings growing by 20 percent a year for the past decade. "Our earnings in 1997 were about $54 million, and last year they were more than $431 million," Hildestad says. "That really speaks to our growth story."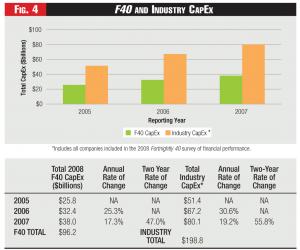 Like many other companies that ranked well in this year's F40, MDU sees its best financial prospects in unregulated business areas. That likely will continue as long as current trends in commodity prices persist. Namely, fuel prices are at historic high levels and electricity reserve margins are shrinking, so companies with a long position in energy commodities are outperforming those with a short position. Gas reserves bolster a company's returns, but gas-fired power capacity tends to weaken them—except where long-term fuel supply or tolling arrangements insulate plant owners from commodity-price risk. Accordingly, companies with major coal-fired or nuclear generating assets are well positioned for the near-term future.
"For the first time since the Enron collapse and the industry's refocus on core business, the pendulum has shifted toward commodity exposure driving returns," Azagury says. "We're at the right time of the cycle for merchant companies. If you have gas E&P exposure, or a big merchant-power portfolio, margins will be very strong for the next few years."
Examples of such companies at the top of the F40 ranking include