The Fortnightly 40
Energen (#1) and National Fuel Gas (#3), both of which are strongly positioned in gas markets from the well to the burner tip. Others include PPL (#2), which controls more than 11,000 MW of wholesale generating capacity, including the Susquehanna nuclear plant in Pennsylvania; DPL Inc. (#4), whose DPL Energy subsidiary owns nearly 3,000 MW of coal-fired power capacity; and Exelon (#5), whose nuclear unit owns 10 stations and is the largest nuclear operator in the United States.
In general, the same economics also apply to companies with nuclear assets in their rate base—such as Southern Company (#11), Entergy (#12) and FirstEnergy (#14). "Integrated companies at the top of the F40 have a big nuclear fleet," Azagury observes. "Clearly with the run-up in gas prices, there's no better place to be in the generation spectrum than nuclear."
Entergy's Options
Given the outlook for nuclear assets in the United States, Entergy Corp.'s announcement in late 2007 that it would spin off 5,000 MW of non-utility nuclear assets into a new company (recently named Enexus) might've seemed contrarian. But in the context of the company's aggressive portfolio-management approach, the spinoff makes sense.
Over the years, Entergy has auctioned or spun off many major businesses—such as its international operations, which it divested in the late 1990s, and its Entergy-Koch natural gas business, which it sold to Merrill Lynch and Loews Corp. in 2004.
"We look at every asset we run, and we determine whether this is a good day to buy, sell or hold that asset," says Leo Denault, Entergy's CFO. "Our non-utility nuclear operations are a great business for Entergy. Our plants are in favorable markets, they're safe, secure and environmentally friendly—and they have significant upside because of all that. But certain things about the risk profile don't match the utility company."
Specifically, Entergy hopes Wall Street will value the company's wholesale nuclear plants more as a pure-play unregulated investment than as part of Entergy's integrated whole. In principle, separating the nuclear company will increase its option value for shareholders.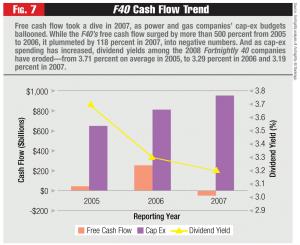 "The question of whether to spin off any particular merchant assets depends on whether the company believes the investor community is applying a discount to those elements of the portfolio," says Accenture's Azagury. "Decoupling the merchant fleet to create more investor visibility will add value in many cases."
Entergy also hopes that shedding the higher-risk assets will raise Entergy Corp.'s credit rating and therefore provide access to cheaper debt—which the company expects to need in the years ahead, as its cap-ex plans unfold.
"Going forward, our capital additions will be in new generation that's more efficient and uses lower cost fuel," Denault says. Reducing fuel costs—for example, by converting the Little Gypsy gas-fired plant to burn petroleum coke, and upgrading other plants to improve heat rates—will help Entergy offset some of its capital expenses. "We'll continue to have a clean profile so the environmental cap-ex burden will be much less for us than it will be for others," Denault says.
Courting the Commission
In addition to proving the worth of unregulated assets in today's