Stabilizing California's Demand
The real reasons behind the state's energy savings.
California. 10
If there is a planetary imperative to reduce overall energy consumption, and California's marked departure in historical per capita consumption trend in relation to the balance of the United States is in large part, energy price induced, one might ask, why not just raise energy prices further? California energy policymakers and regulators discuss EE as the one component of the state's aggressive GHG-emissions reduction policy that will keep money in state and local economies, while all of the other GHG-reduction strategies will be expensive. In other words, California needs moderate energy prices to help keep the economy going. 11
• Climate: Not surprisingly, the weather also is a strong driver of per capita electricity use. We conducted an analysis of the relationship between the number of cooling degree days (CDDs) in California against per capita residential electricity consumption. 12 This analysis showed that years with higher numbers of CDDs, are associated with higher levels of per capita electricity consumption (see Figure 5.) . This is in large part due to the electricity demands of air conditioners in years with warm summers.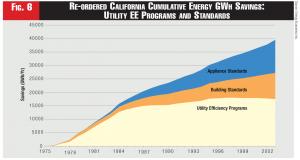 We also found that California tends to experience fewer CDDs than the United States as a whole. The state's relatively moderate climate greatly affects the amount of residential electricity that is used for space cooling in the summer. Heating is less of an issue because of the dominance of gas heating in the state. A good summary measure of the difference between California and the United States as regards climate is the annual number of CDDs each experience. For the period between 1975 and 2005, California had an average of 932 CDDs annually. This is substantially less than the U.S. average of 1,274 CDDs, and represents an average difference of 342 CDDs, or 27 percent fewer. 13 While there is limited evidence of a divergence between California and the United States in terms of the number of CDDs over the past 30 years, it is likely that part of the reason for California's relatively low per capita residential electricity consumption is due to the state's lower average number of CDDs. California's relatively mild climate means that the demand for air conditioning is likely to have increased less than in the United States as a whole, despite the rising income levels in the state.
–  Household Size: In explaining the overall trend in consumption, we need to assess the impact of variables such as household size and housing mix. In California, use per household has increased more than electricity use per capita since the introduction of EE programs. California households are larger than average for the United States: In 2006, they contained an average of 2.93 persons compared to 2.61 persons in the United States as a whole. 14
Household size is important because while each additional person in a household adds to household consumption, they do so by a declining amount. 15 Furthermore, in California, household size has increased since 1980, when there was an average of 2.68 persons per household. This is in contrast to the pattern in