Smart Grid: Wholesale Market Realities
Granular customer data will revolutionize megawatt markets.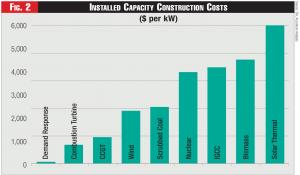 of their capacity available because of both the reduction of peak loads and the overall stagnation or decrease in consumption. Another consequence for wholesale markets will be the shift in value of generation assets. These assets were built years ago to serve a load with characteristics that will change significantly. The market will experience a shift in capacity utilization and this will drive a change in how generation assets are valued. First, as the load curve flattens and an increasing amount of power becomes available in the marketplace, peaking capacity probably will decrease in value as the amount of generating resources available will exceed the demand for on-peak power. Second, it's important to note that the decrease in on-peak load isn't the only force flattening the load curve. When facing the potential for increased penetration of DR and even plug-in hybrid electric vehicles, the magnitude of off-peak loads also will increase. The direct result of this will be the increase in value of mid-merit and baseload generation assets as their average utilization likely will increase. Finally, the changing characteristics of the market also will shift the value of wholesale products ( e.g., load following, full-requirements, power blocks, etc.) and how they will be structured and priced.
In a world with large-scale implementations of smart technologies, successful players in the wholesale markets will understand that their new portfolio won't only include generation assets but also demand assets. They will master the ability to influence demand by the application of new technologies—in EE, DR and DG—and combine them with traditional supply assets—baseload, mid-merit and peaking assets—to create products to meet their customer requirements while offering a unique proposition that includes economic, societal and regulatory values. The key to success in this new wholesale space will depend on the participant's ability to offer truly a total integrated energy-management solution rather than a simple slate of wholesale products.
Efficiency: The Not-So-New Resource
Energy efficiency is the first of two cornerstone benefits that will be delivered by smart technologies. Yet, this is far from a new concept, as these EE programs have been around for a long time. The first time around, emphasis on EE was driven by the oil crisis of the 1970s and early 1980s. Today, the goal of these programs has been to permanently reduce overall power consumption around the clock by deploying new, more energy-efficient technologies ( e.g., improved residential weatherization, compact fluorescent light bulbs and high-efficiency appliances). In fact, industrial and commercial customers have explored EE initiatives for many years now and not surprisingly, most of the easily attained efficiency gains already have been achieved. Residential customers, on the other hand, have paid little to no attention to these programs. Historical results in this market segment have been characterized by low penetration rates—in the single digits—across much of the country. Accordingly, wholesale energy markets never have paid much attention to EE. Control and monitoring of small-scale programs is costly and inefficient as it has depended on individual and lengthy energy audits. Also, utilities and power providers historically have been