Lighting the Way
Understanding the smart energy consumer in a down economy.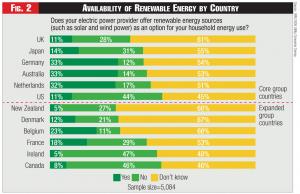 enable shared responsibility, but consumers cannot (or elect not to) exert much control;
•Constrained choice : Consumers take decisive steps toward more control, but are limited to certain "levers" (technologies, usage decisions or choices in providers) by regulatory and technological constraints; and
• Participatory Network : An interconnected environment characterized by a wide variety of grid and network technologies enables shared responsibility and benefits.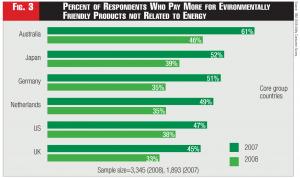 Though each is described distinctly, for at least the near term the industry will be represented by various combinations of the four models in different parts of the world. Ultimately, increasing demand for control by consumers and continual improvement in technologies will result in movement of the basis of the industry to the upper right quadrant (see Figure 1) —driving the creation of entirely new markets (virtual and physical) and products.
Customer Goals
Over the past two years, many consumers demonstrated at least one goal or trait associated with asserting more control over their energy usage. The features of a participatory network have tremendous appeal because they offer abundant service options and information to manage energy usage according to specific goals, such as achieving cost reductions or lessening environmental impacts.
In order to best align societal benefits, customer needs and company goals, providers must leverage consumers' newfound openness to change, and then provide information, influence behavior and teach consumers new ways to meet their goals.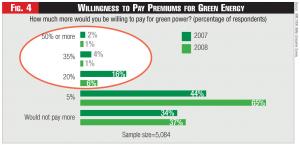 For example, increasingly common customer goals are minimizing cost and carbon footprint ( i.e., estimated greenhouse-gas emissions produced by daily activities). Both conservation and shifting energy-intensive work to an off-peak time can help the customer meet these goals while directly supporting utilities' efforts to limit peak load growth and prepare for a carbon-constrained operating environment.
In their book Nudge, Richard Thaler and Cass Sunstein promote the idea that small changes to individuals' perspectives can cascade into major shifts in behavioral patterns for entire populations. Several of their examples concern managing energy usage, such as one utility's visual device that glows red when usage passes a certain threshold. In just weeks, they reported, those with this device reduced their energy use by 40 percent at peak times. Since consumers have a renewed curiosity about energy and are willing to change behavior, now appears to be an optimal time to nudge consumers in such ways toward behaviors that benefit everyone.
Thaler and Sunstein mention another device that simply displays energy usage and allows it to be transmitted to the Internet, facilitating a sort of "conservation competition" that would benefit both the user and the provider. Linking such capabilities with Internet-based personal communications—for example, posting energy usage on a blog, Twitter, or Facebook—particularly is appealing to the millennial generation, usually defined as those born starting in the late 1970s through the 1990s. These young people are well-prepared to embrace new participatory network-enabled services. In addition to the immediate benefits, such offerings build the providers' reputations as both aligned with the consumer and also forward-thinking technologically and socially.
Cost Reductions
In the 2008 survey, cost remains the most powerful motivator for desire for control