Annual ROE Survey: Austerity Savings
Volatile economic conditions push regulators in new directions.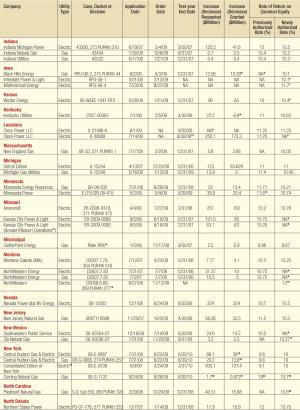 the company's ROE is necessary to ensure investor confidence and company access to capital markets" [Re The Detroit Edison Co., Case No. U-15244, 270 PUR4th 134 (Mich.P.S.C.2008 ) ].
Discretionary Cuts
Regulators in Connecticut looked at the crisis another way. While setting rates for United Illuminating (UI), the Connecticut Department of Public Utility Control (DPUC) lowered the company's ROE from a level of 9.7 percent set in 1996 to 8.75 percent in a rate case heard this year. It rejected a claim by the electric utility that financial models relied on in the past should be adjusted to account for a change in investor behavior as a result of the crisis, including a shift away from looking at dividend payments as a measure of long-term growth and instead focusing more on earnings per share as a guide to investment decisions. The company claimed that dividend growth has remained stagnant due to heightened financial concerns in the utility industry. Expressing a keener interest in the macroeconomic issues at play, the DPUC concluded that although the overall outlook for the economy as a whole is weak, investors likely will continue looking to the utility sector as a safe haven amidst a volatile market environment. The DPUC said that even though the company was embarking on a high volume of capital spending and infrastructure improvements, that would be offset by UI's strong financial position, limited risk profile, visible forward-earnings stream, high dividend yield, strong balance sheet and strong cash position. Despite higher spreads and yields, utilities still outperform most sectors of the bond market. As such, the cost of equity for the electric industry is among the lowest of all industries in the United States. All these indicators suggested a substantial decline in the overall equity cost rate, in the view of the DPUC [Re The United Illuminating Co., Docket No. 08-07-04, Feb. 4, 2009 (Conn.D.P.U.C.)] .
Focusing directly on the plight of consumers during the current economic crisis, the DPUC in a second case reduced rates for a natural gas local distribution company (LDC) by $16.2 million, reflecting an allowed ROE of 9.31 percent. The department rejected claims by the utility that a rate increase was required due to current economic conditions that had resulted in nearly 15,000 residential service terminations due to non-payment of bills. Rather than hike rates to cover past-due bills, the current economic conditions required the LDC to share in the economic difficulties of Connecticut citizens by aggressively managing its operational expenses and capital investments, the department said. Driving home this point, the DPUC disallowed for rate-making purposes, costs incurred for non-qualified pension plans, finding that ratepayers shouldn't have to fund excessive pension benefits in difficult economic times [Re Connecticut Natural Gas Corp.,274 PUR4th 345 (Conn.D.P.U.C. 2009)] .
In perhaps the most dramatic example of ratemaking meets an economy in crisis, the New York Public Service Commission (PSC) has in recent cases addressed consumer issues by imposing what it calls an "austerity savings" adjustment for energy utilities operating in the state. In those cases, the PSC actually increased