New York Negawatts
Balancing risks and opportunities in efficiency investments.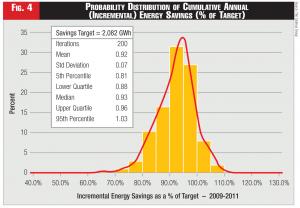 and are pending approval in seven more. 6
Incentive Structures
Incentive schemes in effect today fall into four primary classes: simple mark-ups, which award the utility a percentage of spending; bonuses, which reward achieved energy or energy and capacity savings; shared savings mechanisms, which reward net benefits; and rate-of-return kickers, which allow the utility to seek a higher-than-allowed return on equity for approved energy-efficiency program costs. Hybrid mechanisms also are available that combine features of these four schemes to achieve multiple goals. 7
After considering alternative incentive proposals, the PSC adopted a bonus scheme, arguing that the approach provides a "reasonable balance of risk and opportunity" for utilities to engage in energy efficiency. The mechanism is structured as a three-tiered scheme, allowing rewards or imposing penalties, depending on the percent of annual saving targets achieved (see Figure 2) . Utilities are penalized if their portfolio savings fall below 70 percent of the target, in proportion to their performance. No awards or penalties accrue if savings fall in the dead-band region between 70 and 80 percent of the established targets. Utilities are rewarded if their portfolio savings exceed 80 percent of the target in proportion to their performance. Performance awards are capped at 100 percent of the target, and penalties are limited to performance levels below 50 percent of the target.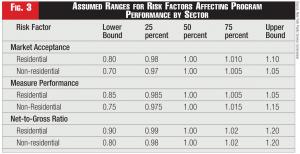 The mechanism is structured as a simple bonus scheme, designed to provide a reasonable level of incentives, while limiting the regulator's upside risk by imposing an earnings cap. It also limits the utility's downside risk with a penalty cap. The PSC rejected an incentive mechanism based on utility expenditures, arguing such an approach could lead to utilities artificially inflating their costs and produces no incentives for innovation and efficiency in operating programs. The PSC also dismissed a shared savings structure on the grounds that it could lead to utilities pursuing least-cost measures, thus creating lost saving opportunities. The PSC didn't entertain a possibly superior hybrid mechanism, such as that adopted in California, which combines bonus and shared-saving schemes, thus pursuing the dual goals of encouraging greater savings and higher cost-effectiveness. 8
Risks in Performance
If all goes according to plan, the six IOUs stand to earn about $27 million annually in performance incentives over three years, or $38.85/MWh. Things, however, seldom go as planned. The success of an energy-efficiency program in realizing its saving target depends on multiple factors, many of which are uncertain and fall beyond the utility's control. These factors may be classified roughly into three classes of risks, depending on whether they relate to a program's expected or ex ante savings, gross savings, or net savings. 9 These three classes include market-acceptance risks; measure-performance risks; and consumer-behavior risks.
Market-acceptance risks arise from economic conditions and considerations that might prevent consumers' willingness—and ability—to participate in programs offered by the utility and adopt energy-efficiency measures. These factors directly will affect a program's expected or ex-ante savings. Although improved program design, enhanced marketing, and higher incentives may help overcome some of these barriers, achieving expected market penetration largely remains a function of