Every Last Penny
Transmission cost allocation, the worth of the grid, and the limits of ratemaking.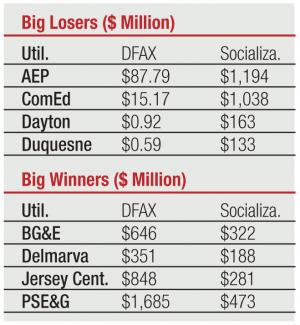 cost of some $6.2 billion.)
And second, as for those regional benefits, they seem tangible enough, but appear aimed in the wrong direction. It so happens that PJM's operative transmission line planning documents showed that certain key projects ( e.g., the PATH and TrAIL lines, in particular) could facilitate power exports from west to east, and so predicted significant drops in wholesale power prices in areas served by PEPCO, BG&E, and Dominion, on the order of $5-$10 per MWh in terms of locational marginal prices, with complementary price hikes for western PJM companies utilities such as AEP, Duquesne Light, Commonwealth Edison, and Dayton Power & Light. The intangibles, if anything, seem to militate against an equal regional allocation of grid-expansion costs.
ELCON, the Electricity Consumers Resource Council, argued that FERC must base its cost allocation on precise ratemaking formulas to ensure efficient planning:
"In [our] experience," 'unquantifiable' costs or benefits … are all too often a fig leaf justification for a project that does not otherwise make economic sense."
ELCON and others say that socialization masks price signals; if gen developers in remote areas need not factor in the added cost of transmission, infrastructure gets built in the wrong place.
And the court itself had laid down the law against regional favoritism:
"FERC is not authorized," wrote Judge Posner, "to approve a pricing scheme that requires a group of utilities to pay for facilities from which its members derive no benefits, or benefits that are trivial." (Ill. C.C. v. FERC, 7th Cir., Aug. 6, 2009, 576 F.3d 470.)
But now the story grows more complicated.
In June, FERC OK'd a highway/byway plan for Southwest Power Pool, with postage-stamp cost allocation for grid facilities operating at 300 kV or above, showing that it still likes socialized cost recovery for new grid lines. (See, Docket ER10-1069, June 17, 2010, 131 FERC ¶61,252.)
And more important, on July 15, as this column went to press, the Midwest ISO proposed region-wide cost sharing for a new category of grid upgrades, to be known as MVPs, or multi-value projects. These new projects qualifying for regional socialization would be those that address reliability and economic issues affecting multiple transmission zones, along the lines of a high-voltage regional grid overlay, or regional grid superhighway. As MISO explains, MVPs would help support "documented energy policy mandates," such as renewable portfolio standards, or other state or federal mandates governing resource planning and overall energy policy. (See, FERC Docket ER10-1791, proposed tariff filed July 15, 2010.)
This new initiative from MISO bears watching.
Second, by proposing this policy, MISO stakeholders certainly must feel they have some sort of chance to win FERC approval. But by proposing to link grid-cost allocation to the furtherance of national energy policy, MISO presumes to act both as judge and jury on what projects, exactly, will serve the national interest.
But Dayton Power argues that if socialized costs are valid as a policy exception to promote wind energy development, then "such exception should be a policy determination made by Congress and not through a regulatory process."