Nuclear Renaissance and the Global Supply Chain
Avoiding pitfalls, realizing benefits.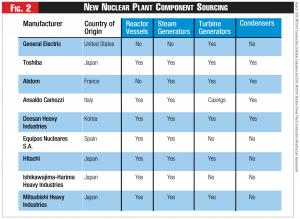 • Difficulty in Qualifying Suppliers : The NRC certifies and inspects domestic manufacturers to ensure their nuclear grade components meet established quality standards. These inspections don't occur at foreign manufacturing facilities, increasing the risk of receiving substandard and counterfeit parts, and necessitating more rigorous and time consuming receipt inspections. Indeed, counterfeit parts have recently been received and in one case installed in a generation-critical system at an existing nuclear plant. 9
• Increased Lead Times : In addition to the lack of domestic suppliers, global production of many critical nuclear plant components is relatively low, necessitating order lead times of up to three years. Some manufacturers suggest significantly longer lead times might be necessary. Additionally, delays in the manufacturing of components for other nuclear generation projects could further extend delivery times. Currently, manufacturer quality issues are driving a delay in delivery of steam generators to one utility replacing those components at an existing nuclear generating station.
• Scarcity of Services : Constrained availability of key labor resources, such as radiation protection technicians and welders, creates construction schedule risk. Utilities seizing the opportunity to quantify and project resource availability position themselves to avoid this risk. Recently, a utility didn't fully anticipate the availability of welders, resulting in the cancelation of a spring maintenance outage at one of its coal-fired generating stations at the cost of significant generation loss during peak demand months when to-be-replaced boiler tubes failed.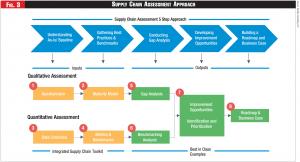 These challenges, combined with the pending retirement of supply chain personnel, emphasize the need for institutionalizing global supply chain processes and employee experience in the near term. Doing so early in the new nuclear plant construction process will ensure the timely procurement of required components and services that could result in fewer schedule delays, better cost controls, decreased inventory, and improved quality.
Supply Chain Assessment
Performing a widely accepted cross-industry based assessment of supply chain functions can help identify enhancements to sourcing processes that balance cost drivers, construction delay risk, and procurement efficiency. Utility supply chain organizations performing such assessments are identifying and incorporating cross-industry best practices and standards as a means to improve their processes.
One example occurring today involves a large regional generation utility embarking on a multi-year process improvement benchmarking study involving companies that have been in the global sourcing marketplace for years, including major players in the retail, heavy equipment, and high technology industries. Additionally, these rigorous assessments often reveal opportunities to leverage the economies of scale associated with a utility's large construction projects and the procurement and warehousing activities associated with its operating units (see Figure 3) .
For most companies, there are four common improvement opportunities identified during a supply chain diagnostic process. First is culture change. Creating a global instead of domestic or regional mindset helps supply chain personnel secure more cost-effective contracts and avoid the significantly higher expediting costs frequently incurred when dealing with overseas suppliers. To be successful, leaders will need to develop and communicate their vision of global marketplace participation and reinforce their vision over time.
A second opportunity is found in organizational development. To achieve