Too Much Reliability
NERC confronts a case backlog now numbering in the thousands.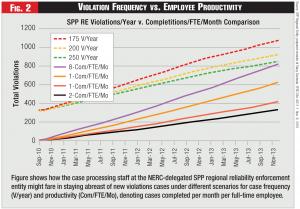 graphic she had prepared ( see Figure 2 ), showing how staff productivity and violation frequency would affect the case backlog under various scenarios, Dochoda summed it all up:
"This is the chart that keeps me up at night."
March Massacre
FERC's newfound focus on NERC's activities arose seemingly out of the blue last March when the commission laid down the law in a dozen or so decisions on electric reliability, all on the same day, that either rejected new proposed standards, mandated a change in NERC's internal procedures, or gave deadlines to NERC to comply with FERC directives that had been issued some three years earlier, in Order 693, but which had apparently fallen through cracks within NERC's bureaucracy:
• Transmission Planning : Rejected NERC's interpretation of the transmission planning reliability standard regarding system performance following loss of a single bulk electric system element ( Dkt. RM10-6-000, March 18, 2010, 130 FERC ¶61,208 ).
• Contingency Reserves : Remanded a WECC standard for resource and demand balancing, as it was less stringent than the NERC-wide standard for contingency reserves, and was based on only eight hours of operational data ( Dkt. RM09-15-000, March 18, 2010, 130 FERC ¶61,202 ).
• Frequency Response : Gave NERC a six-month deadline to modify its frequency response standard BAL-003-0 ( RM06-16-010, March 18, 2010, 130 FERC ¶61,218 ).
• System Definition : Proposed to revise NERC's definition of the "bulk electric system" to include all transmission facilities rated 100kV or above—a move that FERC eventually finalized, while allowing NERC to suggest an alternative solution if equally sufficient to address FERC's concerns ( Order 743, Dkt. RM09-18-000, Nov. 18, 2010, 133 FERC ¶61,150 ).
• Voting Rules : Directed NERC to revise balloting rules for approving standards to prevent a voting minority from delaying or blocking compliance with FERC directives ( Dkt. RR09-6, March 18, 2010, 130 FERC ¶61,203 ).
This March Massacre sent a wake-up call to NERC, but ruffled feathers in some corners.
"The commission's March 18 order on frequency response had a real unfortunate ready, fire, aim dynamic," complained Allen Mosher, APPA's senior director of policy analysis and reliability.
David Mohre, executive director for energy policy at NRECA, the National Rural Electric Cooperative Association, was even more candid:
"When you see an order that has directives that you never thought or heard about before, and you've got 30 days … like, what's going on here? There's no place for that in this reliability structure."
Yet the real turning point, perhaps, had come in February, a month before the Massacre, when FERC announced it would re-examine a NERC-proposed $80,000 penalty against Turlock Irrigation District for a vegetation-caused outage in 2007 that led to a loss of 270 MW of firm load, in an outage affecting some 20,000 retail electric customers ( See, Dkt. NP10-18, Feb. 26, 2010, 130 FERC ¶61,151 ).
Noting that NERC earlier had proposed a $225,000 penalty against Commonwealth Edison for reliability violations leading to three less-severe momentary outages, FERC questioned whether NERC had examined or attempted to take into account