Renewables at a Crossroads
Investment opportunities in an evolving environment.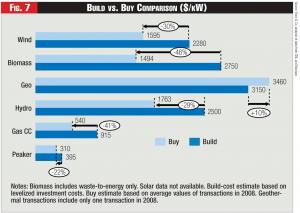 tax credits expire.
The same pattern could occur at the state and local levels, where support for long-term FIT and REC contracts could fall prey to state budget cuts. Even with projected system cost reductions, solar PV will continue to rely on significant public subsidies—nearly 100 percent of retail rates in 2013 ( see Figure 5 ). In this environment, a domestic federal cap-and-trade regime, which would have put a price on carbon emissions and improved the competitiveness of renewables, is likely off the table for the foreseeable future.
Another potential headwind is the amount of wiggle room that states built into their RPS laws. State RPS policies remain key drivers for renewables, but there is sufficient flexibility in the requirements to dial back the mandates, meaning renewables capacity might fall well short of the stated goals. Most RPS policies have clauses allowing the requirements to be relaxed if the price impact on customers is deemed too severe. Seven states have explicitly capped incremental rate impacts at or below just 2 percent. Other states have limits on customer bill increases, force majeure mechanisms, or rigorous approval requirements for annual procurements. Furthermore, the rate impact caps are often vaguely worded, leaving regulators significant flexibility. For instance, they don't always specify the time period for which the percentage increase threshold applies. There's also the question of how strictly states will enforce financial penalties for noncompliance.
Beyond its impact on these specific drivers, the economic slowdown also has caused overall electricity demand to decline, resulting in overcapacity in most U.S. power markets. This demand destruction has slowed renewables development in the absence of FITs. Less consumption translates into lower power prices, which weaken the business case for renewables, and there is little reason to add new capacity when the market is oversupplied.
Too Broad to Fail
Some industry observers point to previous periods of renewables growth—such as the mid-1980s—in questioning whether anything has really changed to ensure the market's resilience in the face of volatile energy prices and changing politics.
Yet, despite this uncertainty, the market has evolved and matured with greater structural diversity and strength, in terms of the technologies being deployed, the industry's geographic footprint, and developers' financial models.
The renewables sector is far more diversified today than it was in the early part of the 1980s, when non-hydro renewable generation was primarily reliant on biomass ( see Figure 1 ). Biomass—both wood and waste—accounted for more than 70 percent of renewable installations through 2000. Though a convenient and economical source of power in areas like California and the Northeast, biomass demonstrated limited potential for either rapid technological improvements or large-scale capacity development. Meanwhile, wind and solar technologies were in their embryonic stage. Consequently, the political commitment to renewables as a viable alternative to fossil fuels was weak, particularly as the supply of oil and natural gas increased and prices fell.
Today, the renewable generation portfolio in the United States is much more balanced, thanks in large part to wind and solar, which have grown substantially over the last decade. Diversity extends beyond