Securing Tomorrow's Grid (Part I)
Protecting smart systems against cyber threats.
and protect their privacy. Synchrophasor technology, including phasor measurement units (PMU) integrated with real-time software applications, provides high-quality, system-wide visibility for grid operators. Cyber security measures are needed to ensure grid operators can depend on the integrity and accuracy of PMU readings as well as ensure the timely delivery of operator control signals. Finally, AMI facilitates the exchange of information between the utility and its customers. Cyber security measures are needed to protect against undesired access through this new utility-customer interface.
Customer Domain: Home Area Network
The home area network (HAN) includes a home's intelligent appliances—those that can connect to and communicate with the utility—along with any local generation, storage, and communication devices that better enable customers to understand and control their energy usage. Intelligent appliances typically include large energy devices such as air conditioners and refrigerators with built-in digital devices designed for two-way communication with the electric service provider through the HAN. That communication enables the utility or another value-added third-party service provider to measure the appliance's usage data and communicate it back to the customer—often through an Internet- or interactive TV-based energy management system (EMS), or even a programmable communicating thermostat (PCT). An advanced meter that has a HAN interface can also communicate pricing data back to the consumer in real time, allowing the consumer (or the networked appliance) to choose to use energy when its cost is low rather than at peak. The HAN might also enable the utility, with customer approval, to temporarily reduce a customer's power consumption during periods of peak load regardless of price in order to avoid overloading transmission systems operating near capacity.
The HAN also connects distributed energy resources (DER), such as household-scale generators or energy storage devices, and could enable those devices to coordinate with the utility to control generation, storage, and distribution of energy back onto the grid for re-sale or intentional islanding. As the market develops, the HAN will also enable plug-in electric vehicles to re-charge at the home and might even bring a host of other functions that stem from its potential to serve as a mobile DER.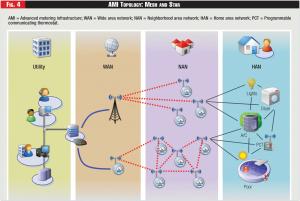 Leading HAN communication technologies include: Zigbee (a wireless mesh topology); Homeplug (which carries information over the actual power line or electric wires in a house); and wi-fi (the same technology used in laptop computers and other devices for wireless Internet). With two-way communication capabilities, smart meters and intelligent appliances become access points to the smart grid network. These devices lie outside of the service provider's physical control, leaving hobbyist hackers free to purchase, then disassemble, and attempt to reverse-engineer or re-engineer them in an effort to access the meter or utility network. To manage the security of these components cost effectively, smart meters and other smart devices must be remotely upgradeable—but pushing out firmware updates over the wire or over the air means these devices must be capable of authenticating and authorizing changes from the utility, while rejecting malicious traffic from hackers or viruses. This level of processing, interaction, and updating can be a challenge for these devices, many of which are