The 40 Best Energy Companies
businesses make a lot of money when prices are high," says Drew Evans, CFO of the Atlanta-based AGL. "Industrial demand has diminished, so there isn't a lot of parity in supply and demand. Reduced profitability in those businesses has the greatest impact on our ability to grow earnings."
Fortunately for AGL's shareholders, the biggest share of the company's business isn't in midstream operations, but in retail distribution, serving 2.5 million customers in Georgia and several other states. AGL is growing that business through mergers and acquisitions—most recently with a $2.4 billion deal to buy Illinois-based Nicor. The merger would almost double AGL's size, in terms of customers served. Such mergers, Evans says, have allowed AGL to defer rate cases in most of its territories: "We've been able to improve efficiency and stay ahead of inflation by consolidating back-office functions, such as engineering, IT and administration."
He adds that this efficiency-focused strategy has helped the company in its current bid to acquire Nicor. To the degree Illinois regulators expect natural gas rates to increase as a result of rising prices or capital spending, Evans says merger synergies will help to offset those costs. "We're not buying Nicor for growth, but because it makes more sense to serve 4.5 million customers instead of 2.5 million."
Waste Not, Want Not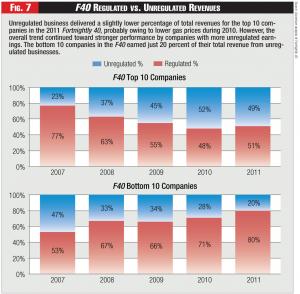 Another outstanding F40 performer—DTE Energy—is pursuing growth in midstream gas operations, specifically transportation systems associated with the Marcellus shale formation. The company plans to invest about $280 million in gas gathering and pipeline infrastructure, through its Bluestone Gathering subsidiary. But like AGL and many other utility companies, the main storyline at DTE doesn't involve growth, but cost containment. And that's the other major trend driving performance among companies in the Fortnightly 40: deploying technologies and efficiency strategies to improve service and drive costs downward.
The state of Michigan provides a crucible of major trends affecting many utility companies. Industrial, commercial and residential demand fell substantially during the Great Recession, and while demand has rebounded in 2011, companies are under pressure to keep costs to a bare minimum—even while they must replace aging infrastructure and invest in new equipment to meet compliance obligations (see Frontlines, " Cap-Ex Conundrum ").
Fortunately for DTE, the recession arrived in the middle of a long-term program of process optimization, so the company was well-prepared for the pressures it's faced.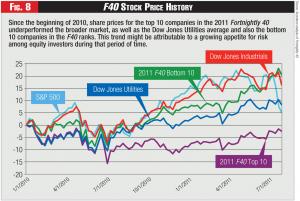 "We started on a journey of continuous improvement almost 10 years ago," says David Meador, DTE's CFO. "We asked employees across the company to look at their processes and find ways to improve and drive out costs. Many corporate cultures don't allow that to happen because people are afraid to lose their jobs. But for us, going into 2007 we saw the auto industry declining, and anticipated we'd lose 7 percent of our industrial load. So we told employees that if they'd help us find ways to reduce costs, we wouldn't have layoffs. We were able to rally employees around us, and we took out $160 million in operating costs."
As a result, Meador says 2009 was among DTE's strongest