Crossing the Threshold
Technology opens customers' homes to utility services.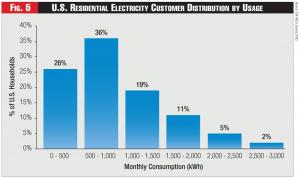 in-home product or service will be sufficient for a sustained period; it might look more like traditional consumer electronics with rapid development cycles. Most mobile phone, television and computer models, for example, are refreshed each year with significant new technology and capabilities. As with other consumer-facing products, constant R&D investments are required as consumers' perspectives, behaviors and in-home technologies evolve.
In other industries where these dynamics already exist, go-to-market strategies involve constant application of advanced marketing techniques such as:
• People: Focus groups, surveys, channels for customer feedback and other customer intelligence gathering methods. Deep market segmentation and custom analytics to structure the characteristics, preferences and behaviors of identifiable groups that can be targeted with marketing messages, pricing models and product features and functionality.
• Product: Product development and packaging of offers that explicitly appeal to customer preferences and use cases—not exclusively to the operational goals of the company selling the product.
• Pricing: Sophisticated and varied pricing models that can be used to improve penetration and yield for different segments.
• Promote, Placement: Crafting the marketing messages that best convey the value propositions that align with customer preferences and are delivered consistently and clearly through the appropriate media.
As an example, consider an existing customer-facing service delivered by utilities: demand-side management (DSM). A DSM program that offers a $5 per-month rebate to curtail load for a specific period of time is not atypical. Assume through this program that the utility would like to attract enough customers to aggregate 15 MW of peak capacity for the year with a wholesale value of $750,000. If the customer base is segmented as illustrated in Figure 4—which charts consumers' "likelihood to participate" against peak energy use—a clear target audience emerges (top right): high-energy consumers who are also highly likely to participate in the program.
While all the consumers in this top-right quadrant are good candidates for DSM programs, there are likely identifiable sub-segment clusters such as the "interested middle" and "big green" groups. Additionally, there are a large number of high-usage customers, the "non-interested majority," who, while not interested in the program, are of high value to the utility. Each segment requires a different sign-up incentive, which implies different effort and varied pay-back levels for the utility. However, the vast majority of DSM programs today provide the same or very similar incentives. This causes a sub-optimal outcome with the utility spending more than required to achieve the target 15 MW capacity from the program. Using this segmentation example, utilities could attract 10,000 participants at a lower cost, instead of 15,000 people, by targeting higher peak-usage customers, or could convert the lowest-cost 12,500 users by targeting customers that are most likely to participate.
If we examine the customer acquisition costs of other mature in-home services we find that marketing is the single largest cost and can range from $100 up to $450 per customer. Utilities might have a marketing advantage because all potential customers of in-home products or services are existing energy account holders. Yet most utilities also have smaller market footprints than most major providers