Electric Vehicles and Gas-Fired Power
A strategic approach to mitigating rate increases and greenhouse gas price risk.

in order to achieve this beneficial outcome.
EV Risks and Rewards
Vehicle electrification reduces fossil fuel imports and contributes to greater energy independence, an important U.S. energy policy goal. Furthermore it can, under the right conditions, reduce global GHG emissions and particulate air pollution in urban areas. 2
Figure 1 demonstrates that the emissions per vehicle-mile from a conventional gasoline-burning vehicle, with an internal combustion engine, are about twice as high as the lifecycle emissions from an EV charged by natural gas combined cycle generation. 3 However, if an EV battery is charged by conventional coal generation, its lifecycle emissions are approximately equivalent to the emissions from a conventional gasoline vehicle. Hence, an electric vehicle deployment strategy that aims to reduce overall emissions should be accompanied by a reduction in conventional coal-fired electricity generation.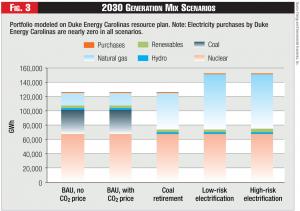 In the United States, electric vehicles largely have been treated as a transportation sector technology challenge, in which the primary objective is reducing the cost of the vehicles. The current administration's energy strategy includes the goal of putting 1 million EVs on the road by 2015 to be achieved via tax credits for the purchase of vehicles and investments in battery research and development. 4 As an incentive to vehicle manufacturers, the U.S. EPA and the National Highway Traffic Safety Administration (NHTSA) have issued proposed standards for vehicles that would count electric vehicles as having a carbon emissions rate of zero through 2016. 5
No equivalent incentives for EVs have been issued in the electricity sector, partly because few utility executives have taken a strong public stance on shaping electric vehicle policy. 6 Meanwhile, lawmakers have tended to assume utilities' automatic support for electrification efforts. While electrification can benefit utilities by increasing off-peak sales and improving the utility's load factor, it also can pose real financial risks to electric utilities, including GHG abatement risk, renewable portfolio standard (RPS) cost risk, and distribution system challenges. A case study of Duke Energy Carolinas indicates that the cost of greenhouse gas abatement risk would, using conservative estimates, total approximately $11 billion by 2030 if the company didn't receive any credits to offset the additional utility emissions associated with vehicle electrification. 7
Duke Energy Carolinas Scenarios
Duke Energy Carolinas serves as a case study to illustrate the potential risks and rewards of electrification to electric utilities. Duke Carolinas is selected because of its outsized role in shaping the policy debate in Washington on electricity sector issues. If the proposed merger between Duke Energy and Progress Energy is approved, the combined utility will be the largest in the country. The parent company's CEO, Jim Rogers, has taken a public leadership role in discussing the benefits and pitfalls to utilities of proposed carbon reduction policies. Furthermore, Duke Carolinas represents a U.S. utility with high air pollution emissions cost risks: 42 percent of its generation is coal-fired.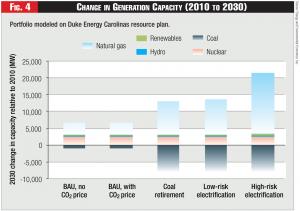 In 2010, Duke Carolinas released its integrated resource plan, which included a strong focus on building new zero-emissions nuclear generation in the 2020 timeframe and replacing some existing high-emissions coal-fired generation with new coal and natural gas-fired power