Digest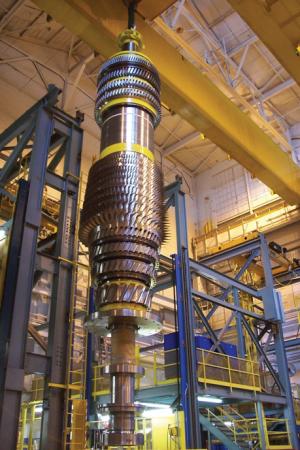 from CPV Renewable Energy. The project, located in Gray County in southwest Kansas, is comprised of 72 Siemens 2.3-MW turbines spread across approximately 14,000 acres. The facility's output is sold to the Tennessee Valley Authority under a 20-year agreement. Financial terms weren't disclosed.
NRG Energy and GenOn Energy completed their merger, creating the largest competitive power generator in the United States. With the merger completed, NRG is now dual headquartered, with financial and commercial headquarters in Princeton and operational headquarters in Houston. The combined fleet of conventional and renewable power plants totals more than 47 GW of capacity.
Dominion and Caiman Energy II (owned by private equity firm EnCap Flatrock Midstream) formed a $1.5 billion joint venture to provide midstream services to natural gas producers operating in the Utica shale in Ohio and portions of Pennsylvania. The joint venture, Blue Racer Midstream LLC, will be an equal partnership between Dominion and Caiman, with Dominion contributing midstream assets and Caiman contributing equity capital. The venture's midstream services will include gathering, processing, fractionation, and natural gas liquids transportation and marketing.
Peoples Natural Gas acquired Equitable Gas EQT's distribution business in Pennsylvania, West Virginia, and Kentucky. Peoples Natural Gas paid $720 million in cash plus select midstream assets and commercial arrangements.
Duke Energy acquired a commercial solar power project located within the University of Arizona's Science and Technology Park in Tucson. Duke Energy Renewables purchased the 6-MW Gato Montes solar project from AstroSol Inc. Tucson Electric Power (TEP) will buy the output under a 20-year agreement.
See more Finance News at Fortnightly.com
DR and Conservation
Constellation launched Virtu-Watt Link, a web service application that facilitates automated load response program participation. The service allows a facility's existing automation system to manage load curtailment automatically based upon energy market signals and pre-set scenarios. VirtuWatt Link is an extension of Constellation's VirtuWatt energy management platform, which allows commercial and industrial customers to monitor energy usage in real time and schedule load curtailments for load response programs.
Ameresco completed of the first phase of a $28 million energy savings project with NASA Goddard Space Flight Center's Wallops flight facility, located on Virginia's eastern shore. The Wallops facility is NASA's principal facility for the management and implementation of suborbital research programs. As part of the $15 million first phase of the facility-wide project, Ameresco installed high efficiency lighting, decentralized an antiquated steam plant by installing a propane distribution system with over 60 building-level condensing boilers, and upgraded and expanded an existing energy management control system. Ameresco is currently engaged in building and deploying a $13 million second phase to the energy savings project. The scope includes a geothermal energy efficiency project scheduled for completion in 2013.
See more DR & Conservation News at Fortnightly.com
Metering
The Orlando Utilities Commission (OUC) selected Elster's EnergyAxis to complete its AMI system. The project will help OUC complete its conversion to a digital meter network and lay the foundation for a website that allows OUC customers to monitor their consumption.
Elster is expanding its deployment of AMI solutions, using cellular point-to-point communications to