The CIO Forum: The Changing Face of Energy I.T.
Budgets are expected to increase, even as new IT challenges present themselves.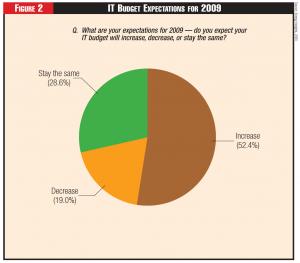 light years.
Specifically, here at PG&E, one of the things we've done with technology and our technology budget is take a more focused approach to it. So, we've centralized most of our IT spend in general, and our overall vision [has] more focus on how we're going to spend those technology dollars.
In the past, perhaps, it was a little more spread out. Now there will be larger projects, but they'll [have] more impact on the business overall.
Fortnightly: Is your company facing any unique challenges?
PL: I was with Nisource for eight years. I was the corporate CIO, but everything was centralized. So I had the entire organization for Nisource.
At PG&E, some of the immediate and different challenges I'm facing as a CIO that I didn't in my prior role is the focus regulators have in ensuring that energy is utilized as efficiently as possible. There's a very keen focus on that. Much of what we do is focused on ensuring we have a lot of renewable energy available.
One of the projects we need to undertake is an AMI (advanced metering infrastructure) project, so that we can provide time-of-day pricing to our customers. They can have choices—if they use energy in the middle of the day it's a different price than it will be at midnight or 10 p.m. That's a mandate from the California Public Utilities Commission. Of course, we're very supportive of that, and we want our customers to have that type of flexibility.
Fortnightly: How far along are you in your implementation of that project?
PL: We're beyond the early stages of research. We've got a very exciting project going. It's been a long effort. It was initiated before I got here but really began to get legs, I think, the beginning of this year. It's really taken off.
We have a proposal to enable our entire service territory with advanced meters over the next five years. We recently got approval to roll out 5,000 meters in Vacaville. We're going to have those up and running in the spring. We just finished some contract negations [involving that project] this week.
Fortnightly: What percentage of overall revenues constitutes IT spending at PG&E?
PL: The general industry average is probably between 2 and 4 percent. We fall within that range.
It's a challenging question to answer. Everybody has different things in their IT group. I've got a business unit where we lease cellular space, and that's in IT. That's actually a revenue generator for the organization. We use our tower and infrastructure for cellular contracts. We actually have a group build those and hang the devices on the towers.
I have a SCADA organization. We've got an internal telecommunications group that actually runs the phone lines in certain cases. So it's hard to compare, but we're right within that 2 to 4 percent range.
Fortnightly: Is that a stated company goal to stay within that range?
PL: I've worked in all sorts of environments. Sometimes it varies from year to year with how the company's doing. Specifically, what's