East Vs. West: Growing the Grid
The models and motives behind tomorrow's transmission expansion.

the West:
• Frontier Line. Proposed by the Wyoming Infrastructure Authority and a four-state coalition led by the governors of Wyoming, Utah, Nevada, and California, and envisioned to run across those same states;
• TransWest Express. Proposed by Arizona Public Service Co., with a route running roughly congruent to that envisioned for Frontier; and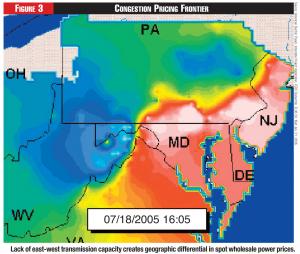 • Northern Lights. A direct-current (DC) project proposed by TransCanada, with possible alternative routes leading from Montana, or thereabouts, and running southwest into California.
Other projects, though smaller, appear just as caught up in squabbles over state policy favoring renewable energy. Examples are the Sunrise Powerlink, proposed by San Diego Gas & Electric, and the Green Path, proposed jointly by the Imperial Valley Irrigation District and the Los Angeles Department of Water and Power, with heavy participation by Citizens Energy, the pro-consumer combine made famous by Congressman Joseph Kennedy.
Not so, apparently, in the East. That's where American Electric Power Co. (AEP) and Allegheny Energy rocked the electric industry in January and late February with proposals for two new monster transmission lines: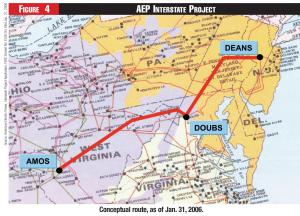 • AEP Interstate Project. A 765-kV line, with transfer capacity of roughly 5,000 MW, running west to east from West Virginia through western Maryland, eastern Pennsylvania, and into New Jersey; and
• Trans-Allegheny Interstate Line. A 330-mile, 500-kV project running from Allegheny's Wylie Ridge Substation, near Wierton, W.V., to a new substation in central Maryland near Kemptown, near the company's eastern territorial boundary (announced on Feb. 28).
The AEP and Allegheny proposals contrast so vividly against the Western situation because of the way in which FERC's pro-market policies appear to motivate the two projects. AEP's line in particular would target Baltimore, Washington, D.C., and the suburbs in-between—an area marked recently by relatively high spot energy prices in PJM's regional markets. 1 The Allegheny proposal appears to follow much of the same strategy. 2 Small wonder, then, that FERC Chairman Joseph T. Kelliher took pains recently to plug the new AEP project at the commission's recent technical conference, held on Feb. 3, to examine an entirely different topic: PJM's reliability pricing model. Clearly, FERC must see the AEP project as validation for its oft-maligned standard market design (SMD); that RTOs and locational pricing really can entice developers to launch new grid projects.
For example, AEP took care in its application filed at FERC (on Jan. 31, 2006) to show how its project should help dampen the extreme nodal price differentials seen last summer in Maryland. Moreover, AEP has asked FERC for special financial incentives to reward the investment, as envisioned by the EPACT 2005 law, and exactly as promised by FERC itself in a recent policy initiative. 3
Markets & Prices: The Eastern Model
The story of AEP's proposed Interstate grid project begins with the company's decision to join the PJM RTO grid system (see Figure 1) . That move paved the way for AEP to tout its profit strategy of exporting low-cost power into areas of the PJM footprint marked by high locational spot energy prices.
At the time AEP applied for membership, the company also