Do Utility Mergers Deliver?
Not in all cases, or for all stakeholders. Here's why.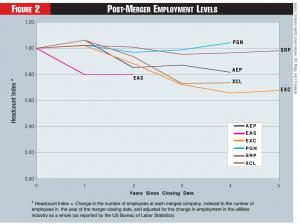 their mergers. Measured at the end of the five-year period, only Exelon has outpaced the broader utility index to any significant degree.
Impacts on Employees
No stakeholder group in a merging company is affected more directly by the merger than are employees. Significant financial impacts may be experienced by shareholders, but these effects usually are distributed over a very large number of investors, and gains or losses usually occur on the margin of their portfolios. Employees, on the other hand, may have a great deal more at stake, ranging from their livelihood to opportunity for advancement in their careers.
To this end, a merger often is a mixed blessing. While it may forge a stronger and broader foundation from which an employee can grow, a merger often is an unsettling experience for employees.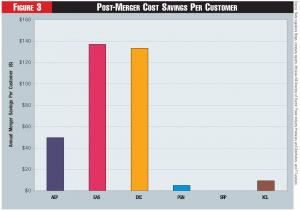 Figure 2 shows employee headcount at each company in the sample group relative to the headcount at the date of the merger. Employee levels are adjusted for overall utility industry employment levels, such that a level of 1.0 indicates the utility's corporate headcount matches that of the industry.
From this perspective, the history of utility mergers may be a source of concern for utility employees. Four of the six companies in the sample group significantly reduced the number of employees following the closing date. The notable exceptions are Progress Energy and Sierra Pacific Resources. Not coincidentally, these companies operate in two of the faster-growing electric markets in the nation.
Note that this chart reflects changes in headcount from all corporate activities, including the sale of assets or divisions wherein the associated employees may well retain their jobs with the acquirer. Nonetheless, changes of this magnitude suggest that the ultimate impact may be significant reductions in post-merger employment levels. It should not come as a surprise that elimination of duplicate jobs and adoption of cross-company best practices are the deliberate result of post-merger integration. Cost savings for customers and shareholders originate from these actions, but may pit employees and unions against mergers by their employer.

While it is relatively common for merging companies to shed overhead over time through employee attrition, more aggressive actions also have taken place. At the announcement of the Unicom-PECO merger, Exelon stated that the company would reduce its workforce by 5 percent through a combination of attrition and separation packages. This reduction indeed took place within the first two years following the merger. But Exelon's headcount continued to shrink, amounting to a more than 40 percent overall workforce reduction since closing. Exelon has been the most successful of the sample group in post-merger stock performance.
Four of the six companies in the sample group maintained their headcounts for just over one year since closing, followed by reductions thereafter. This one- to two-year period of stable headcount followed by workforce reductions likely is attributable to the implementation of merger integration plans over time, asset rationalization, and any employment conditions of the merger.
Mergers can bring a host of benefits to employees, including broader career opportunities and improved benefits packages afforded by the better negotiating power of