Asset Ownership Takes New Shape
The North American electric-power sector remains highly fragmented, with much consolidation potential.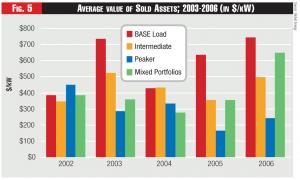 stipulation of The Energy Policy Act of 2005, with the objective of protecting against generation market power while encouraging the required investment in transmission and generation.
The final rule relieves several restrictions on mergers and acquisitions, including the requirement for utilities to be physically interconnected, operate within a single region, or limit their activities to utility related businesses. The rule also grants blanket authorizations to some transaction categories, including holding-company acquisitions of foreign utilities, intra-holding-company system financing and cash arrangements, certain internal reorganizations, and certain holding company acquisitions. The new rule was expected to support and strengthen the already instigated industry consolidation. 2 Table 1 lists the mergers and acquisitions announced since late 2004, and their status.
Some of these announced deals have been consummated successfully while others have been abandoned due to the lack of regulatory support. If completed, some of the proposed mergers would create mega utilities spanning wide geographic areas across divergent regulatory and competitive landscapes.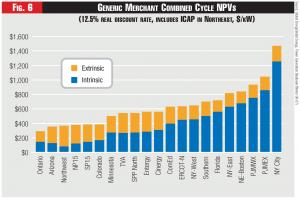 As in the case of single-asset or asset-portfolio acquisition, M&A activity in the United States is attracting foreign capital. Examples include Australia's Babcock & Brown, which acquired South Dakota's NorthWestern; the purchase of KeySpan by U.K.-based National Grid; and Canada's Gaz Métro's subsidiary purchase of Green Mountain Power.
Despite M&A activity, deal values in 2006 actually dropped by 64 percent from 2005 levels. This is in contrast to the 52 percent hike in M&A deal values in worldwide deals, according to Price Waterhouse Coopers.
The repeal of the Public Utility Holding Company Act under the M&A final rule may have motivated state regulators to impose even stricter requirements, but state opposition has demolished two mega-merger agreements during 2006—PSEG/Exelon and FPL/Constellation. Such regulatory uncertainty might be holding back future merger plans. At the same time, energy company earnings during 2006 were far beyond what would be expected from organic growth. As such, the North American electric-power sector remains highly fragmented, with much consolidation potential.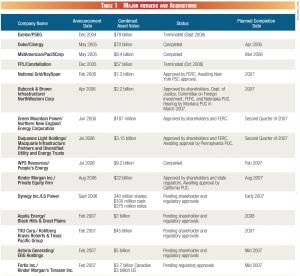 Endnotes:
1. Sale price estimates are based on available data that covered only about 134 GW of the transacted capacity. Transaction data excludes electric utility mergers.
2. FERC made certain revisions in April 2006 and July 2006 to the final rule, updating merger review policies in response to comments made by interested parties and providing clarifications to specific issues.