The Best Little Nodal Market in Texas
Sweating the details for 2009.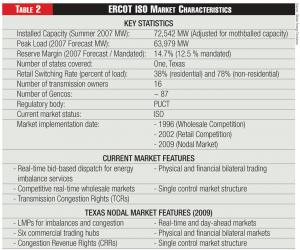 Reserve service. Balancing, reliability must-run, black-start, and voltage support services are not procured in this market.
• Day-ahead Reliability Unit Commitment. A day-ahead reliability unit commitment (DARUC) application would be used in the TNM to commit generation as necessary beyond what is already committed in the day-ahead and bilateral markets. Such an approach will ensure that there is enough online generating capacity to meet reliability needs and secure real-time operation. This process, beginning after the conclusion of the day-ahead energy market, will use two-part bids that include start-up and minimum energy operating costs. Market participants will be able to bid into the DARUC market, which is used to commit or de-commit additional resources required to meet real-time operational security issues.
• ERCOT LMP Load Zones. According to the TNM Protocols, the LMP congestion management scheme eliminates the need to delineate the ERCOT Commercially Significant Constraint (CSC) and congestion-management zones every year, thereby reducing the resultant uncertainty and liquidity concerns in the market. The LMP commercial load zones have been defined consistently with the four CSC zones of the 2003 ERCOT market configuration: South, North, West, and Houston as shown in Figure 1.
Congestion Costs

ERCOT currently breaks congestion costs into two broad categories: interzonal and local. The overall level of congestion costs within ERCOT has been an important concern for market participants, especially local congestion costs, which are handled mainly through non-market operations and then uplifted to all load across ERCOT.
Figure 2 shows the monthly congestion costs incurred by ERCOT market participants between August 2001 and December 2006. Congestion costs in August 2001 set the record when they reached $137 million. These significant congestion costs triggered the direct assignment of interzonal congestion costs to all market participants leading to the current interzonal TCR congestion management model. As a result of the direct assignment, interzonal congestion costs have declined significantly. Interzonal congestion costs currently are managed through the BES market and can be hedged using TCRs (or PCRs). If, after settlement, it is found that TCRs were oversold based on actual system conditions (credit payments exceeded congestion rents collected), then an uplift payment amount is assessed to all ERCOT load. This is called the Balancing Energy Neutrality Adjustment charge.
At the same time, local congestion costs including out of merit order energy (OOME), out of merit capacity, (OOMC) reliability must-run (RMR), and resource-specific instructions have risen dramatically between 2001 and 2004. Between January 2002 and September 2004, local congestion costs averaged more than $25 million per month while interzonal congestion costs averaged $2.6 million per month. Local congestion is managed by ERCOT by requesting generators to adjust their output. For OOME, a unit is paid for a quantity of output that is higher or lower than scheduled output (OOME up or OOME down). As shown in Figure 2, local congestion costs generally have declined. According to ERCOT, recent transmission system upgrades and improvements have relieved several transmission constraints, eliminating the need for several RMR contracts as well as other local congestion-mitigation tools.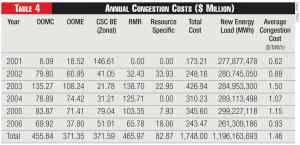 Table 4 lists annual congestion costs by category and compares