Banking on the Big Build
The need for many hundreds of billions of dollars in capital expenditures creates huge opportunities and challenges, especially in a more challenging credit environment.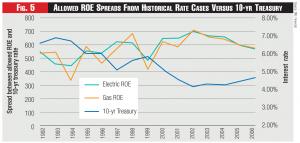 of the equity market value of even the largest companies in the sector such as Exelon ($48 billion, as of the time of writing). If oil and gas supermajors with market capitalizations of $200 billion to $300 billion are concerned about the impact of funding deepwater exploration and production projects and LNG terminals costing similar amounts of money to large power plants, it is not surprising that utilities should be even more concerned about how they will finance their capital expenditure programs.
So how should utilities approach this challenge, especially during a period of more challenging conditions in credit markets? The magnitude of the numbers requires a multi-pronged approach.
Rate Cases
It is not unreasonable for the ultimate beneficiaries of the investment, i.e., ratepayers, to bear the brunt of the burden, especially following a long period in which utility costs have represented a decreasing portion of total consumer spending.
The last couple of years already has seen a significant increase in rate-case activity, following a period of relative inactivity during much of the late 1990s and early 2000s.
Many more rate cases in the years ahead will be necessary to ensure that the new wave of capital expenditures can be financed.
Allowed returns for utilities remain relatively attractive, with the recent downward trend in average ROEs for both electricity and gas to their current level of approximately 10.3 percent (source: RRA) driven principally by a reduction in underlying Treasury bond rates. Figure 5 shows allowed ROEs for both electric and gas utilities, expressed as a spread over Treasurys (left scale), and actual Treasury bond rates (right scale):
Long-established laws of supply and demand indicate that federal and state regulators need to ensure that allowed returns stay at or above current levels if sufficient capital is to be attracted to the sector versus finding more attractive opportunities elsewhere. But companies and investors should be alert to the increasing burden on customer bills triggered even by large single projects, compounded by recent increases in commodity prices. In this context, the estimate provided by Appalachian Power Co. to the West Virginia Public Service Commission in August 2007 regarding the potential rate impact of its proposed 630-MW, $2.23 billion, Mountaineer IGCC project is noteworthy. APCo projected incremental rate increases between 2009 and 2012 of more than $100 million for West Virginia retail customers, equivalent to a total rate increase of 11.6 percent, from the $1 billion portion which is expected to be allocated to West Virginia.
Regulatory Certainty
Recent experiences in Illinois and Maryland, on top of the experience in California earlier in the decade, do not bode well for investors in terms of regulatory stability if end prices to customers are increasing rapidly. And price increases are inevitable, even without any further increase in commodity prices. Dan Ford of Lehman Brothers recently estimated that cumulative rate increases for his regulated coverage universe would amount to 66 percent by 2010 compared with 2005 levels.
In Illinois, the expiration of the rate freeze in January 2007, led to customers' bills rising significantly. Even though customers had