Coal: Inconvenient Truths
The current coal bust might lead to a future boom.
from 1997 levels. In the same time frame, Central Appalachia has seen production decline by 18.6 percent to 236 million tons in 2006. Production of higher-sulfur Illinois Basin coal has declined 13.4 percent to 96 million tons in response to the Clean Air Act amendments, while Northern Appalachia coal production has declined 12.5 percent to 136 million tons since 1997, primarily for the same reason. The only basin to see an increase in production since 1997 is the Rocky Mountain Basin, showing a modest increase of 1.3 percent in the last 10 years with 112 million tons of total production in 2006. Coal imports steadily have increased from 15 million tons in 2000 to 36 million tons in 2006, a 142 percent increase.
All major coal producing basins have seen declines in basin-level productivity since 2001, due to deteriorating reserve quality and slowing improvement of mining technology and scale economies. The PRB has seen its overall basin-level productivity decline by 16.7 percent, to 34.98 tons per miner-hour since 2001. In the same time frame, Central Appalachia has seen productivity decline by 25 percent, to 2.82 tons per miner-hour in 2006. Illinois Basin and Rocky Mountain productivity also have seen very significant declines of 11.26 and 20.34 percent, respectively. Northern Appalachia productivity saw a decrease of only 1.23 percent, the smallest productivity decline of all the major basins since 2001.
Coal prices have increased in all basins over the last 10 years. The weighted average "free on board" (FOB) mine prices (spot and contract) have increased 32 percent in the United States from 1998 to 2006. Central Appalachia has seen the most significant increase in FOB prices— from $25 to $46 a ton over this time period, an increase of 84 percent. The Illinois Basin and Northern Appalachia have both seen a 36 percent increase in FOB mine prices, with 2006 prices of $29.92 and $37.39 a ton, respectively. Rocky Mountain coal has realized a modest increase on a dollar-per-ton basis of approximately five dollars, though this does equate to a significant 27 percent increase. The PRB's increases in FOB mine prices have been the most modest— from $7.83 to $9.11 a ton, or 16 percent.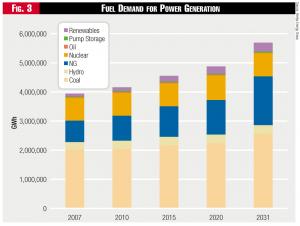 In 2006, coal-fired power plants generated 50 percent of U.S. electricity. A decade ago the picture was very different. Coal's share of electricity generation was near 60 percent in 1997, but has since fallen to 50 percent due to a massive build out of cheap (approximately $600 a kW) natural gas plants, driven by very low natural gas prices in the late 1990s and early 2000s. With low gas prices apparently a thing of the past, coal solidly holds the title of lowest-cost fossil fuel for electricity generation. This is reflected in plant utilization rates, which are much higher for coal than for gas. In 2006, the utilization rate, or capacity factor, of coal plants was 71 percent compared to 25 percent for gas plants. Despite the fact that coal's generation share has diminished during the last 10 years, coal production and consumption increased during that time