Coal Sets Sail
Global markets affect domestic prices, exports and infrastructure.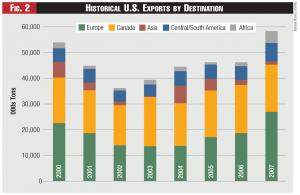 market. The U.S. exports a large amount of met coal mainly due to increasing demand overseas for use in the steel-making process. In 2007, the U.S. imported only 3.5 million tons of met coal compared to met exports of 29.3 million tons. Despite the significance of metallurgical coal in the U.S. export market, a restricted supply of metallurgical quality coal means that any massive increases in exports from the U.S. must come from thermal coal. There is a visible jump in net exports from 2006 to 2007 (see Figure 1) .
South Africa produces thermal coal exclusively, which implies that the supply holes left in the Atlantic's European market are best filled with thermal coal. This implication bodes well for U.S. exporters. The U.S. is currently the marginal supplier of thermal coal into the Atlantic market, meaning that while the U.S. consumes the vast majority of its domestically produced thermal coal and also imports a great deal, it has the ability to increase exports of thermal coal should prices warrant. Recently the Atlantic market has become tight enough to increase prices to a level where U.S. suppliers realize higher profits by exporting their coal, rather than selling it domestically in many cases. Major increases in exports to European countries in 2007 back this point (see Figure 2) .
The supply situation recently resulted in delivered European prices from the U.S. of more than $160/ton, which translates to U.S. FOB mine prices exceeding $100/ton. European deliveries from the Atlantic market are priced at the Amsterdam-Rotterdam-Antwerp (ARA) terminal. In general, if the difference between the ARA spot price and U.S. spot price is larger than the cost of shipping coal from U.S. mines to Europe, then it will be economical for coal to flow from there. Most U.S. exports come from mines in the Central Appalachian (CAPP) and Northern Appalachian (NAPP) coal basins and are transported by rail to ports on the East and Gulf Coasts. The average shipping cost for this trip from East Coast ports was $31.60/ton in 2007, with a 2008 U.S. East Coast to ARA shipping price estimated at $34.39/ton. Including rail transportation for coal to reach export terminals, current shipping costs are approximately $60 to $70/ton.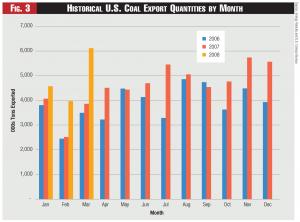 Based on these shipping rates and current U.S. prices, one might argue ARA spot prices need to remain in the $160-$180/ton range in order for exports to continue to flow freely to Europe. This argument assumes that U.S. prices remain at current levels, which are extremely elevated at the moment. However, current U.S. prices are dependent on ARA prices, not the other way around. This warrants an explanation of the relationship of increasing U.S. exports and domestic pricing.
As coal supply in the Atlantic market has decreased due to the diversion of South African supplies, the result has been major increases in prices within the Atlantic market. U.S. producers have been eager to deliver coal to this market and reap the benefits, showing a preference for increased profits rather than loyalty to their traditional customers, which kept them in business during less profitable