Carbon In Electricity Markets
Price transparency will drive GHG reductions.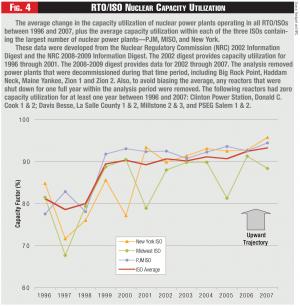 provide efficient price signals to consumers and producers. On the supply side, this alignment stimulates reduction in operating and capital costs and spurs innovation in processes and products. On the demand side, it provides incentives for demand-side management and energy-efficiency investments. In addition, competitive markets provide buyers and sellers with the products necessary to manage price and quantify risk. 6 By contrast, in a vertically integrated market, buyers, sellers, and regulators all have different objectives that can work at cross purposes to achieving GHG reductions.
The analysis focuses on the evolution of heat rates in coal plants and capacity utilization factors in nuclear plants in RTO/ISO markets. 7, 8 Since coal and nuclear plants account for approximately 70 percent of total electricity generation in the United States, 9 the performance of these units is an important indicator of how electricity markets have evolved over the last 10 to 15 years. Data shows increased participation in demand-response programs in restructured markets and highlights how electricity markets can accurately inform electricity consumers about the cost of carbon.
RTO/ISO wholesale markets were examined because participants in these markets face transparent prices irrespective of state regulatory regimes. These markets include the Northeast (New England RTO, New York ISO), the Mid Atlantic (PJM Interconnect) California (California ISO), parts of the Midwest (MISO), and Texas (ERCOT) (see Figure 2) . The Southwest Power Pool (SPP) was excluded because it doesn't operate a fully integrated real-time energy market. Rather, SPP only provides an "imbalance service" allowing scheduling entities to balance their generation and load with real-time purchases or sales. Only 6 percent of SPP generation is sold through this market.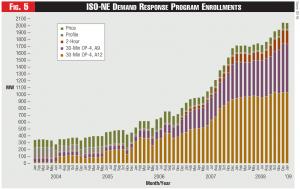 The performance in restructured competitive markets to date demonstrates how generator owners and operators respond to the economic incentives provided by that market structure. This can be shown most readily by the improvements in thermal conversion efficiency for coal generating units and by the increased annual capacity factors (availability) of nuclear units.
In restructured competitive markets, these improvements directly translate into economic benefits for both producers and consumers. Generators in restructured wholesale markets sell power under bilateral contract arrangements as well as in the spot market, and therefore are rewarded financially for achieving efficiencies—lower heat rates for coal, increased capacity factors for nuclear—which translates into lower production costs and, in the case of coal, reduced emissions.
Efficiency and Availability Improvements
Coal-fired units in each of the restructured markets show a decided improvement in their average heat rates in the years following restructuring (see Figure 3) . Overall, heat rates improved (declined) from approximately 10,800 Btu/kWh to approximately 9,850 Btu/kWh—an efficiency gain of 9.4 percent over the 10-year period. These improvements were driven, in part, by competitive electricity pricing that provided financial incentives for plant owners/operators to improve plant performance.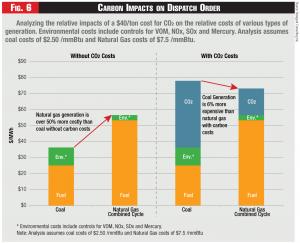 Earnings in restructured competitive electricity markets are tied directly to a generating unit's total output. Therefore, there's a significant incentive for the owners of power plants to shorten maintenance and refueling outages, which increases plant availability (that is, operational up-time, the percentage of time that the plant is available to