The Fortnightly 40
The 40 Best Energy Companies
in the sector have done well, reducing their cost structure to mitigate [reduced earnings]," says James Hempstead, senior vice president for global infrastructure finance with Moody's Investors Service. "But if you're reducing cap-ex in maintenance or T&D projects, that makes us nervous from a credit perspective. It could translate into reliability problems in the future, which is what regulators care about. That's the basic premise of our credit thesis—that the industry's solid regulatory relationships continue to hold."
Indeed, cost-cutting measures have fallen short for some companies—particularly in the darkest days of the financial crisis in late 2008 and early 2009 (see " Crisis Capital "). To avoid the specter of cash shortfalls and to ensure they could keep already-started cap-ex projects on track, some companies resorted to cutting their dividend payouts—generally considered a drastic step in this industry. Great Plains Energy cut its dividend in half, and Ameren slashed its dividend by 40 percent.
So far, such cases represent exceptions rather than the rule, but they might also serve as a harbinger of what's ahead for the industry—particularly for companies with historically high dividend-payout ratios and large capital spending plans.
"The last thing utilities want to do is play with their dividends," Hempstead says. "But as earnings come down, your payout ratios are going up. If you have a big cap-ex program, shouldn't you be retaining more of your cash flow internally? Perhaps we'll see a change in the dividend growth rate."
Utilities must play a balancing act, preserving the attractive dividend portion of their returns, while also executing business plans that involve substantial capital investments and customer-focused service programs. That balancing act might get difficult to perform if the economy remains weak—and it might become impossible if pending GHG constraints require another wave of major capital expenditures.
"The first few examples of dividend cuts have shown what can happen if several things hit you at once," Laurens says. "It's not widespread now, but it's one of the financial levers that utilities will pull if things continue to get more difficult, and if state regulatory agencies don't respond in a positive way."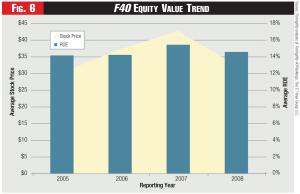 Rate Relief
Already before the financial meltdown, the regulated utility industry was beginning a steady pilgrimage into the offices of state utility commissions across the country. Last year was a very active year for utility rate cases, and 2009 appears even busier. Further, many companies are pursuing rate cases in multiple states. According to the C Three Group's rate-case database, during the past year Avista brought two rate cases each in Idaho and Washington and one case in Oregon. Duke is pursuing rate cases in both of the Carolinas, and Xcel has cases pending before the commissions in Minnesota, Wisconsin, Colorado and South Dakota.
Such activity is typical across the country, as utilities seek rate increases for a variety of purposes. Many are proposing capital-spending projects, most commonly for smart-grid investments and other initiatives that position companies for stricter environmental and green-energy policies. In many cases, companies are seeking extra consideration for lost revenues attributable to conservation and other