The Fortnightly 40
The 40 Best Energy Companies

initiatives.
"Studies indicate conservation could keep electricity demand depressed over the next decade," says Jean Reaves-Rollins, managing partner with the C Three Group. "Electric vehicles are a wild card, but companies that aren't earning their allowed ROE due to depressed energy sales are looking to regulators to make them whole. Going forward, rate treatment largely will determine who the winners will be."
Powering Down
The most remarkable and important trend affecting utilities in the past year has been the precipitous decline in electricity sales—especially to industrial customers.
Of course, electricity sales are linked to broader economic trends. When America's gross domestic product (GDP) rises, then electricity sales rise as well. Contrariwise, power sales fall when the country's economy shrinks—as it did by about 6 percent late last year and in the first half of this year.
However, few analysts predicted that power demand would contract quite as dramatically as it has in the past year. Alliant Energy, for example, stated in an August 6 press release that its second-quarter 2009 residential electricity sales fell by 8 percent compared to the same period last year, with industrial sales plunging by 13 percent.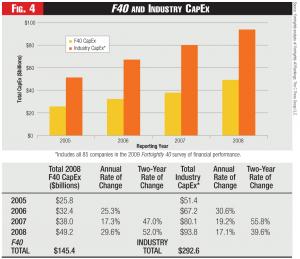 Many utilities across the country are reporting similarly alarming sales figures, apparently driven by major cutbacks in industrial production. "Companies in competitive industries are using this time to make tough decisions about permanently shutting down manufacturing, or moving it to a lower-cost location," says Robert Laurens, senior executive in Accenture's utility strategy practice. "These tough decisions have translated into the new normal. We're going to be in a rationalized demand environment for some time to come."
If true, this phenomenon will affect utility, power and gas companies in many important ways. Most obviously, lower sales means lower revenues, which puts pressure on the entire balance sheet. Companies are dealing with the decline by first deferring discretionary spending, particularly for new capacity construction, but also for plant outages and upgrades. Organizationally, companies are tightening up operational processes to gain better control over costs.
"We've consolidated spending decisions among our plants," says Paul Barbas, CEO of this year's number-one ranked DPL Inc., parent of Dayton Power & Light. "We have an engineering team for our entire business that stacks up investments on a fleet-wide basis. We have strong accountability built in with our engineering folks as well as our plant personnel."
And in some cases, utilities also have laid off employees.
"We're always looking at every aspect of the business," says Anthony J. Alexander, CEO of FirstEnergy—which ranked in the F40's top 10 for the first time this year. "We reduced staff, froze payroll and had a wage reduction. We've managed overtime more effectively. We're taking longer [planned] outages than we'd otherwise take, to eliminate overtime and contractors. With these steps, we're well on the way to capturing $300 million in savings this year."
In general, such tactics have allowed utilities to keep their financial houses in order—so far. If the economy's malaise continues or worsens, however, companies might need to make deeper cuts, and that could affect the industry's longer-term prospects.
"Companies