The Fortnightly 40
The 40 Best Energy Companies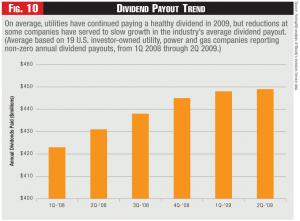 companies have the opportunity to invest in solar and other renewable power facilities. You won't see us in the traditional electricity business, but let's face it; this is an opportunity with momentum. The way we look at it, from a strategic standpoint, this is a non-traditional way for us to get into the electric business. It could provide a meaningful investment opportunity."
The New Normal
Not all companies are ready to bring a rate case. Southern Company's Georgia Power subsidiary, for instance, was eligible under its three-year rate order to go back to the commission this year, but instead the company decided to wait until next year when a rate review will be mandatory. Southern Company—which has maintained a consistent position near the top of the F40 for five years in a row—can wait in part because its returns have held steadier than most other companies in the industry. Southern Company shares declined about 16 percent since Sept. 15, 2008, compared to the 20-percent drop suffered by the Dow Jones Utility average. But also, the company isn't facing a sudden need for major cap-ex spending, because for the past decade Southern has been investing in new generating capacity and also modernizing its T&D network, quietly and steadily positioning itself as a smart-grid leader.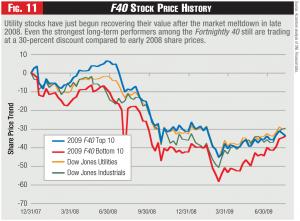 "We've spent $1 billion consistently over the last nine years on automation, SCADA and communication technology to make sure we have a self-healing network," says Southern Company CFO Paul Bowers. "We've continued to deploy the most automated platforms out there."
The company has deployed 1.4 million smart meters, and plans to install another 4.4 million to cover its entire territory in the next four years.
"That gives us a platform to give customers the information they need to manage energy use at their homes and businesses," Bowers says. "It will allow us to provide pricing information so customers can interact with [an energy management] platform from Google or Accenture, for example, to adjust the behavior of their appliances."
Rate orders already allow some Southern Company subsidiaries to recover costs associated with conservation investments. But in general the company isn't worried about demand destruction in its market. "We're growing significantly," Bowers says. "Our population is expected to increase 23 percent by 2020. That means we'll be making investments, even with energy-efficiency measures. We've had 3,100 MW of demand reductions from efficiency, but we've still had to build 12,000 MW of new capacity since 1999. Efficiency only affects the margin. We'll get top-quartile returns if we do the right thing by customers, and that means controlling costs."
Of course, few companies enjoy Southern Company's combination of a growing customer base and a favorable regulatory environment. For the rest of the industry, the new normal seems to include falling demand, rising costs and tougher compliance obligations.
"In a declining usage environment, there's no way utilities can cost-cut their way to prosperity and also make investments in the new generation of smart technologies," says Accenture's Laurens. "It's essential that the regulatory models adapt to the new normal, and support it early enough so