Paying with Plastic
Customers demand real choices for bill payment.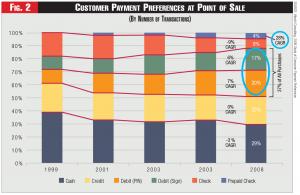 increase from $113 billion to $178 billion, 2 corresponding to an annual growth rate exceeding 16 percent. This growth is driven by the roughly 50 to 70 million U.S. consumers who don't have traditional deposit accounts or have limited access to credit—a demographic segment sometimes referred to as the "under- and unbanked." 3 When combined with credit policies that are growing more restrictive, opportunities for the unbanked population to participate in an increasingly electronic marketplace lie with the expanded use of pre-paid cards. Another major driver in the growing use of pre-paid cards is the increased substitution of pre-paid cards for the cash or check disbursements that payroll systems and government assistance programs historically have used. The increased proliferation of pre-paid cards for government benefits disbursement likely will result in even greater usage among low-income customers, with pre-paid cards eventually becoming a preferred bill payment option.
Until recently, utility bill card payments—mainly provided by utilities through third-party processing (TPP), with a convenience fee—were assumed to be the domain of late payers seeking last-minute, expedited payments. But, as any remittance executive can tell you, the reasons customers pay by card go beyond necessity and include personal preferences. Paying monthly utility bills with a revolving credit card appeals to customers for diverse reasons, from reward points accrual and perceived convenience, to short-term credit access and a desire to eliminate paperwork. Increasingly, however, customers are turning to cards simply for convenience. The dramatic shift in usage from credit to debit, in addition to the growth of prepaid cards, are clear indicators that customers from all income levels increasingly are demanding the ability to pay by card. At the same time, the related convenience fees provide a disincentive for customers to pay by card on a broader scale. Therefore, wide-scale acceptance of payment cards by utilities must be based on a no-convenience fee approach, supported by a compelling business case that meets the needs of utility executives and, as appropriate, regulators.
Additionally, a credibility gap results when utilities publicize that they are transforming into a utility of the future and providing customers with a more personalized and sophisticated experience, yet still charge customers convenience fees for on-demand and recurring card payments. For utilities to engage customers electronically—and leverage those relationships as part of their successful smart-grid programs—customers need to be able to pay using their preferred methods, as they are able to do with other service providers ( e.g., cable, satellite, wireless and telecommunications). In this sense, the acceptance of no-fee card payments is central to supporting a utility's transformation into a utility of the future.
Card-Pay Business Case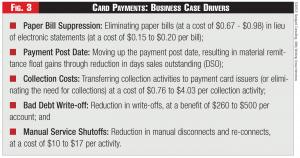 The traditional utility business case for accepting card payments is based on the costs associated with no-fee card payments and the related near-term business and financial benefits. And, up to this point utilities have been challenged to demonstrate positive returns. However, recent card payment business cases are proving to be much closer to cost neutral due to the growth in debit and pre-paid cards, driven in large part by the low-income customer segment's use of payment