The 40 Best Energy Companies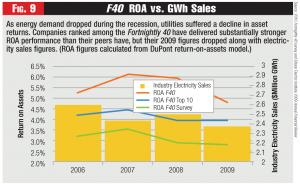 an 8-percent rate increase plus a tracking mechanism to price-in its planned capital expenditures.
Additionally, the investments are happening at a time of transition for Southern's management. This summer, CEO David Ratcliffe announced his plans to retire at the end of the year, setting in motion a succession plan that results in COO Thomas Fanning becoming CEO, CFO Paul Bowers becoming COO and Alabama Power CFO Art Beattie ascending to CFO. The company also announced at least a dozen management changes at the VP level or higher.
For the next few years, these factors likely will weigh on Southern's financial performance—and its F40 ranking. Although Southern is one of the largest utility companies in America, with a $30 billion market capitalization, no U.S. utility can spend $20 billion over four years without straining its balance sheet and testing the indulgence of regulators and customers. Even so, Ratcliffe says Southern Company takes a long view on its cap-ex plans and the resulting public debate.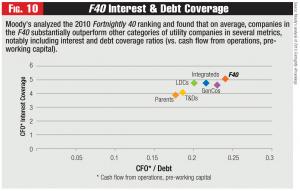 "The public has to understand that we're trying to find the best solutions for them in the long term," he told Fortnightly in an interview earlier this year. "We're fortunate in our jurisdiction to have an IRP process where we go before the regulators and ask for agreement on the actual amount of need we have, and then we go back in a separate process and determine exactly what technology makes the most sense, in terms of the mix of assets that already exist, the need for reliability and the desire for a cleaner footprint. That way we get a decision that the commission and the public has input into, and agreement that we should move forward. We'd never be able to build [the plants we have planned] if not for that public process and the cooperation of regulators and the communities we serve."
Protect and Grow
In some respect, many U.S. power and gas companies are facing a crossroads, and they're seeking direction from among industry leaders like the companies that appear near the top of Fortnightly's ranking year after year. However, the strategic lessons taught by these companies can seem confusing. For instance, the back-to-basics trend of the post-Enron era hasn't exactly reversed itself, but unregulated business activities are making a distinct comeback, generating strong returns for many companies. Investors value strong cash flow and steady dividends, but the leaders in the F40 pay lower dividends than many of their peers.
Such apparent contradictions might in fact belie the secret to success in shareholder performance. Dominion, PSEG and Exelon provide noteworthy examples.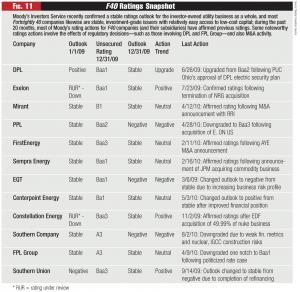 In 2007, Dominion Resources embarked on a strategic redirection that it's still implementing today. The company sold its offshore hydrocarbon exploration & production businesses, as well as its properties in the Marcellus Shale region and a gas distribution company in Ohio, which was outside its primary service area in Virginia. Dominion aims to reduce the proportion of its earnings attributable to unregulated business, down from its previous 75 percent to about 40 percent. Yet the company intends to grow substantially, with plans to invest in