Chicken-Egg Solution
Solar and wind developers learn to shift project risk to the grid.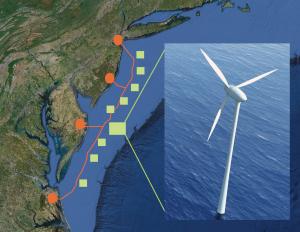 days of his administration, each urging the commission to use this incentive-based technique to bypass the chicken-egg quandary get new solar and wind projects quickly up and running, rather than to let them languish in the queues, awaiting approvals for financing and grid interconnection:
"We must not let projects fail," he wrote in October, "because of the slow pace of our bureaucracies.
"They should be able to stand or fail on their own merits."
Yet there remains a key philosophical objection to this clever new way of solving the chicken-egg problem. In the plainest of terms, it takes a share of gen project risk and reallocates it to transmission and to the grid's captive ratepayers.
So far, in the cases in which this objection was raised, FERC has rejected it, finding no evidence that project risk was being shifted to third parties in the form of higher rates. Yet, if FERC continues to endorse this model, it could undermine the commission's efforts to remake regional transmission planning along the lines of a top-down process.
Solar is Served
The story begins with a case filed in December and still pending at FERC in late January. In this instance, Southern California Edison asked for special cost and rate guarantees to cover its planned $1.5 billion investment (including pensions and administrative costs) for building grid network upgrades to interconnect some 3,700 MW in new solar and wind projects under development by independent power producers in the Mohave Desert and along the Arizona border. ( See, Petition for Declaratory Order for Incentive Rate Treatment, FERC Docket EL11-10, filed Dec. 9, 2010. )
One of the projects seeking grid connections, the 1,000-MW Solar Millennium Blythe project (concentrating solar, parabolic trough), which won certification approval from the California Energy Commission on September 15, reportedly will constitute the largest solar generating facility in the world, and will include four separate 250-MW units, each costing in excess of $1.3 billion. (See Solar Millennium Blythe siting case at www.energy.ca.gov.)
To justify its request for rate incentives—including recovery of investment even if gen projects should later become abandoned—Edison cites the sheer enormity of its planned transmission expansion program. According to Paul Hunt, Edison's director of regulatory finance and economics, Edison plans grid expansions costing some $5.5 billion over the next five years (facilities under control of the California ISO), or more than three times its total transmission plant, as valued as recently as year-end 2008. This program, Hunt asserts, could stress the balance sheet without current rate recovery of ongoing investments through a FERC-approved CWIP allowance (for Construction Work in Progress):
"SCE will have difficulty executing its aggressive capital spending plans during the next few years without eroding its credit quality.
"[I]f FERC does not grant SCE's requested CWIP incentive … SCE will have to rely more heavily on external financing." (Affidavit of Dr. Paul Hunt, Dec. 8.)
Of course, Edison could have asked the wind and solar developers to finance the connections up front. Yet, by taking on that obligation itself, through a specially crafted large generation interconnection agreement (LGIA)