Chasing the $un
Solar projects are becoming hot investments.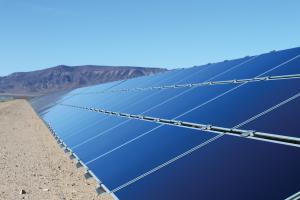 perhaps on a warehouse rooftop or adjacent to an existing substation.
These characteristics mean a nimble solar PV project can be easier to permit, finance and build than the typical wind farm, which, because it's usually far from a load center, often requires new transmission infrastructure to deliver the output.
Similarly, compared to PV, a solar CSP plant—which uses mirrors to gather and concentrate the sun's heat to generate superheated steam—also takes longer to finance, permit and build, and might require new transmission capacity as well. But a CSP plant can leverage its power block—the steam generator and turbine, which can represent 50 percent of a power plant's cost—with a heat storage facility or even an adjacent gas turbine to deliver more firm, less variable power output. You can't do that, CSP developers say, with a wind farm.
Further, the cost of solar power technology continues to decline. Depending on the location, PV can deliver power at 11 to 12 cents a kilowatt-hour, making it competitive with gas-fired peaking plants in some parts of the country. "Solar PV has become a lot cheaper in the last five years," says Declan Flanagan, CEO of Chicago-based Lincoln Renewable Energy, a private developer. "It's gone from $8 per Watt installed, to between $3 and $4. That's a 50 percent cost reduction, and the trend is continuing."
PV system prices will continue dropping for a number of reasons, according to Paidipati. "You've got the learning curve, meaning the more you build the better you become at doing so; greater economies of scale as the industry continues to grow; lower silicon prices; and increased module and system efficiencies."
The per-kilowatt-hour price for CSP assets is a bit higher, but it's in the ballpark. "The prices we've seen for PPAs in the southwestern U.S. have ranged from 11 to 12 cents a kilowatt-hour, to the high teens, depending on the plant's location and configuration," says IHS Analyst Thomas Maslin.
Tax Appetite
While interest in solar is definitely a utility-by-utility proposition, there are generally two investment models. First, some regulated utilities are adding solar assets to their generation portfolio, either by building facilities or acquiring them. Under the second model, independent developers like NRG Solar are investing in or building merchant solar plants and selling the output to load-serving utilities under long-term power purchase agreements (PPA).
At this point, utilities are investing mostly in relatively small PV projects ranging from 1 to 30 MW in size, while independent developers and utility affiliates are investing in larger utility-scale PV and CSP projects that will add potentially thousands of megawatts of capacity over the next 10 to 20 years.
"To meet its RPS targets sooner, a utility can install PV assets near existing substations, usually in the 10, 20 or 30 MW size. In that size range, you can finance and deploy the equipment faster," Maslin says. "The federal government's 30 percent tax credit wasn't previously an option to IOUs and now it's been extended to the end of 2016. So if the utility has the tax appetite, it might want