Policies Get Smart
State and federal incentives push utilities to invest in grid intelligence.
for the deployment of the qualified smart grid system."
In effect, this language encourages each state to authorize electric utilities to decouple rates from consumption. Several states—including Connecticut, Idaho, New York and Vermont—already have taken such action, decoupling rates from energy consumption. More than a dozen other states are considering such a move (see table "Revenue Decoupling in the States") .
In 2007, the Idaho Public Utilities Commission approved a pilot "fixed cost adjustment" that allows Idaho Power to recover its fixed costs regardless of energy sales (see " 2008 CEO Forum "). The fixed-cost adjustment will allow for an annual comparison of the fixed costs actually recovered through rates and the fixed costs authorized by the commission in its most recent rate case. The difference, if negative, would result in an annual rate increase to consumers of no more than 3 percent. If the utility recovers more, the difference would be credited back to consumers with as much as a 3-percent decrease. The utility recently adopted programs providing added financial incentives to consumers for efficiency improvements.
In a twist on the decoupling idea, the North Carolina Utilities Commission accepted a plan in 2007 that will compensate Duke Energy Carolinas for verified reductions in energy use. The commission also accepted Duke Energy Carolinas' commitment to invest 1 percent of its annual retail revenues in North Carolina—about $35 million annually—in energy efficiency programs. As efficiency gains slow the increase in electricity demand, the company will retire up to 800 MW of older coal plants.
(Editor's Note: Progress Energy recently filed a proposal for a similar conservation incentive, with a goal of reducing 2,000 MW of demand in the Carolinas. See " 2008 CEO Forum ")
Providing incentives for utilities to partner with customers and third parties on these alternatives and offering appropriate opportunities for earnings based on these investments will pave the way for a power grid that promotes innovation rather than resists it.
Climate-Change Drivers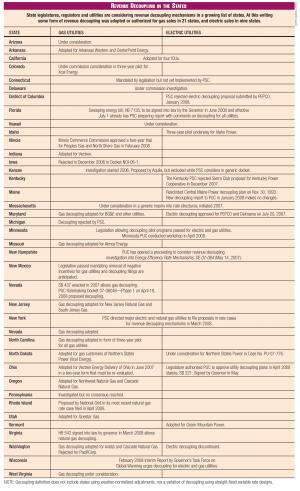 A strong carbon policy will create new incentives and opportunities to extract value from smart grid networks beyond their initial purpose of demand response. If carbon prices rise to projected levels, wholesale power costs could double. The ancillary services made possible by wide-scale, real-time demand response have the potential to mitigate the anticipated financial impact of a carbon policy.
The two-way communication and metering capabilities of an intelligent demand-response system will provide utilities with the required measurement and validation for carbon offsets programs. Today, measurement and validation of end-use energy efficiency typically accounts for approximately 10 percent of total utility program costs. Modern demand-response networks with automated metering provide data at short intervals (hourly or less), providing enhanced resolution to conduct accurate measurement and validation.
This capability can make efficiency programs significantly more attractive to utilities and regulators by saving substantial measurement and validation costs and making energy savings and carbon offsets more transparent and tradable.
Smart-grid technologies also can help utilities reduce carbon output. Shifting loads from peak demand periods to shoulder or off-peak periods can save primary energy and reduce carbon emissions.