The Path Forward
In the wake of the banking crisis, utilities lead the way to financial stability.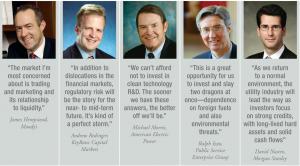 rationalize their organizations accordingly.
Sources told Fortnightly that Barclays PLC hasn't decided how it will integrate Lehman's investment banking and trading operations, but assuming the transaction moves forward, the bank will evaluate the business prospects of individual departments and the performance of individual bankers to determine the final structure of the merged firm. In other words, Barclays will keep the people and operations that best match or complement its business models and opportunities, and the rest will be sold off or disbanded.
To some degree, the same thing likely will happen up and down Wall Street in the wake of the financial crisis. Some attrition will happen immediately, and other aspects of the consolidation might play out over months and years—as institutions re-evaluate their strategic interests in an evolving market. If this evaluation leads the banks to cut back or eliminate some service areas, the consolidation might have serious implications for power and gas companies.
"The market I'm most concerned about is trading and marketing and its relationship to liquidity," Hempstead says. "The entrance of financial institutions into this market was a positive trend. What would happen if the big counterparties left the market?"
From a credit perspective, Hempstead identifies concerns that trading volumes could dry up, bid-ask spreads might widen, and more trading business might move to commodities exchanges such as NYMEX and the ICE, where collateral requirements are entirely formulaic— i.e., a certain sized trade requires buyers and sellers to post a certain amount of collateral.
To the degree counterparties no longer can lean on firms like Lehman Brothers to backstop their trading positions, they'll have to post their own collateral—potentially further straining balance sheets already stressed in the credit crunch. This would be problematic especially for companies whose business plans depend on liquid markets for energy commodities and derivatives— a-la Constellation Energy, which earned 84 percent of its 2007 revenues in unregulated markets. Another example is Texas Competitive Electric Holdings (TCEH), the former TXU Corp., whose portfolio-based hedging program raised concerns in a recent ratings opinion. "TCEH's imperfect hedge structure cannot fully mitigate downside cash flow risks," Moodys stated. The company's debt coverage ratio, under 5 percent in the short term and less than 10 percent in the intermediate term, leaves "very little cushion to absorb any unexpected 'speed bumps.'"
Rising collateral requirements could reshape the U.S. energy markets—as well as the roster of competitors in those markets. Companies focused on wholesale gas and power trades might find themselves getting squeezed out, while energy suppliers that rely on markets for commodity-risk management will bear the rising costs of constrained and opaque markets.
The bottom line for utilities: unpredictable commodity prices, rising costs for ratepayers, and growing pressure on already strained regulatory relationships.
Big Build Slowdown?
Companies in the U.S. power and gas industry steadily have increased their budgets for capital expenditures in recent years—spending more than $80 billion in 2007, according to this year's Fortnightly 40 survey. 2 This spending is attributable to the industry's widely anticipated Big Build—a major investment surge in power generation, pipelines and T&D