Green Transition
Integrating distributed resources into the smart grid.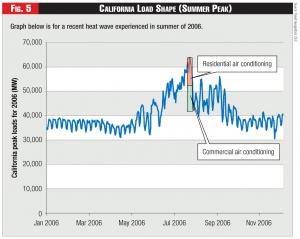 (CSP) plants.
Approximately 35 states now have renewable portfolio standards (RPS). Some, like California, require as much as one-third of the electricity consumed by 2020 to come from new renewable sources. Recent projections by the Energy Information Administration suggest significant growth in non-hydro renewable energy generation through 2035 ( Figure 3 ). But the existing grid simply can't support growing penetration of renewable energy resources. A study by the U.S. Department of Energy, for example, concluded that the United States can obtain as much as 20 percent of its electricity from wind alone by 2030, but identified the deficiency in transmission capacity among the most pressing obstacles. 5
As illustrated in Figure 4, some renewable resources—notably wind—have a poor correlation with demand while other technologies, like solar, more precisely track demand.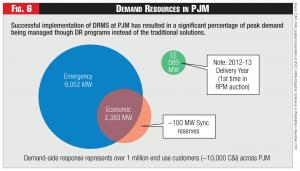 With the growth of variable supplies that don't always correlate with energy demand cycles, industry experts are now looking into options for additional storage. Large batteries have recently become available to provide utility scale storage solutions for variable power at an increasingly competitive price. 6 Utilities are also looking at the extraordinary growth in the demand for and availability of electric vehicles as a natural solution to the energy storage dilemma. New armies of electric vehicles (EVs) include batteries which, when plugged into an electric socket, can both recharge and discharge stored energy back to the grid—known as the vehicle-to-grid concept (V2G). This giant pool of storage capacity can act as a reservoir for variable power, thus solving the most vexing obstacle to widespread wind and solar deployment. Car batteries can store the intermittent energy during periods of peak generation and low demand, and then return it to the grid during demand spikes. This new storage capacity will allow the smart grid of the future to accommodate variable load with variable generation—much of it from non-dispatchable, intermittent renewable resources.
Under this scheme, electric automobile owners will be able to make money by leasing their batteries as depositories or by arbitraging the grid themselves. This is only one example of how the smart grid makes energy consumers active participants in the new energy marketplace.
Jon Wellinghoff, the chairman of the Federal Energy Regulatory Commission (FERC), has made a priority of rapid smart grid adoption. In a recent article in The New York Times, 7 titled "Making the consumer an active participant in the grid," he wrote, "The energy future of the U.S. looks radically different from its past." Wellinghoff envisions a future with consumers as "active parts of the grid, providing energy via their own solar panels or wind turbines, a system called distributed generation; stabilizing the grid by adjusting demand through intelligent appliances or behavior modification, known as demand response; and storing energy for various grid tasks." Wellinghoff added that "consumers should get paid to provide these services."
Wellinghoff is right. He recognizes that a smart, two-way grid is a transformative and disruptive technology that will bring abundance, prosperity and democracy to America's energy landscape. It will absorb vast amounts of clean, local renewable energy and homemade distributed generation while recruiting