Deck:
Enron makes an exit; FERC cost-based rates return.
Out of the fog of Enron's demise, a historian might note that the company's greatest legacy was its championing of competitive energy markets.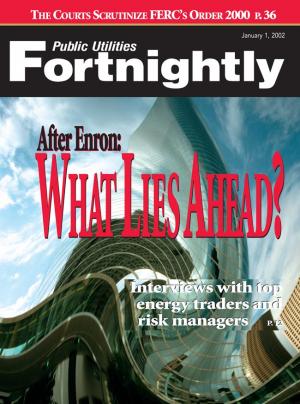 No other company in recent memory argued as forcibly, lobbied as hard, or spent as much money to convince America that it had a choice. 
Certainly, like most companies, Enron's agenda was to make money. But in the early days of Order 888 and 889, its voice was clearly distinct from the chorus of utility industry dissent towards electric restructuring.  
Enron was a useful barometer from which to judge against industry opinion on the support for competition. 
Now, Enron is simply no more. Even though its demise has been clearly documented, one may never really understand how those pesky off-balance sheet transactions truly worked. 
The company liked to revel in the level of complexity of its transactions-which, ultimately, was its undoing. Perhaps it's a tribute that even the jokes being sent around show similar intellectual rigor. Interested in how Enron conducted its accounting? Below is an anonymous e-mail that was sent to trading floors describing humorously how Enron might have accounted for a portfolio of cows:   
Enron Accounting: Texas Style
You have two cows. You sell three of them to your publicly listed company using letters of credit opened by your brother-in-law at the bank. 
Then, you execute a debt-equity swap with an associated general offer, so you get all four cows back, with a tax-exemption for the fifth cow, of course. 
The estimated future value of the milk cash flow stream rights of the six cows are monetized and transferred via an intermediary to the Cayman Islands, secretly owned by a majority shareholder who sells the rights to all seven cows back to your listed company, off-balance-sheet, of course. 
The annual report says the company owns eight cows and recognizes milk revenue for its 20-year life of the cow. 
This is hedged with derivative cow life insurance policy through a Cayman Island bank, and these hedges are done through EnronOnline's commodity storefront with an option to buy one more cow, no balance sheet provided ... 
The company says it will file all footnotes at a later date...
-Anonymous e-mail circulated just before Enron's bankruptcy

But what may not be a joke is FERC's new market power screen, which will set cost-based rate mechanisms for those deemed to have market power. The market screen itself-called the Supply Margin Assessment (SMA)-attempts to take into account regional transmission constraints and generation load imbalances that the previous hub-and-spoke analysis did not. (Please refer to FERC Docket No. ER96-2495-015.) 
According to FERC, in determining the size that triggers generation market power concerns, the SMA establishes a threshold based on whether an applicant is pivotal in the market, such as whether some of the applicant's capacity must be used to meet the market's peak demand. When an applicant is pivotal, it is in a position to demand a high price above competitive levels and be assured of selling at least some of its capacity. 
An applicant will be pivotal if its capacity exceeds the market's surplus of capacity above peak demand-that is its market's supply margin. Thus, an applicant will fail the SMA screen if the amount of its capacity exceeds the market's supply margin. 
FERC argues that this is a better screen for market power because, unlike the 20 percent market share screen of the previous hub-and-spoke analysis, it is sensitive to the relative scarcity of electric supply available from suppliers other than the applicant in the applicable market. 
Those dealing in ISO or RTO markets will be exempt from the screen, but those in non-ISO or RTO markets will not be exempt. 
Based on the SMA, American Electric Power was found to have the ability to exercise market power within its control area market because its generation is needed to meet the market's peak demand. Furthermore, Entergy and Southern were also found to have the ability to exercise market power within their control area. All three companies passed the SMA screen when analyzing markets they participated in outside the control area. 
Rather than revoke market-based rate authority-as FERC had previously threatened-FERC decided to force these companies to undergo a so-called mitigation plan for market power within the control area-which are essentially cost-based rates. 
"To prevent economic withholding, we will require that an applicant who fails the SMA screen offer uncommitted capacity for spot sales in the relevant market. The uncommitted capacity will be priced under a form of cost-based rates. We will require a split-the-savings formula, which was the traditional cost-based ratemaking model used for spot energy sales. The historical costing approach was a way of establishing an economic value for spot energy exchanges by dividing the trade benefits equally between the buyer and the seller. Eliminating an applicant's ability to negotiate trade benefits is an effective means of mitigating the applicant's market power in the spot market," according to the FERC order.
- - -
In a response to FERC's new rulemaking, Bill Hieronymus, on behalf of Exelon, argues that the SMA's test has defects that will result in denial of market rate authority in the failed market without further inquiry, and the SMA would deny market rate authority to nearly all IOUs in their home territories.
In fact, when Pleasants Energy, a 310-MW, gas and diesel-fired combustion turbine station, had the SMA applied to it, FERC determined under the new screen that Pleasants Energy would not be able to exercise market power in the Allegheny control area, and granted market-based rate authority. 
But to receive the authority, Pleasants Energy agreed to a tariff amendment prohibiting it from making sales into the Dominion Virginia Power service territory. 
Dominion Virginia Power is a subsidiary of Dominion, which owns Pleasants Energy. In effect, Pleasants Energy would have to set cost-based rates to sell into its parents' service territory.
Hieronymus calls for FERC to create an additional standard applicable to load serving utilities that will allow incumbent IOUs that lack market power in their home market to retain market rate authority. 
But exploring an additional test misses a very important point. The simple fact that FERC has reverted to using traditional cost-based rates to control market abuse begs some rather strong questions about the state of competition in the industry. FERC is mandated to insure just and reasonable rates. Does the reversion back to cost-based rate mechanisms to control market power mean markets have failed at achieving that mandate? 
The more things change, the more they stay the same.