Deck:
At a posh dinner event and conference, industry experts speculate on the issues that could affect the industry in 2005.
At a posh dinner event and conference, industry experts speculate on the issues that could affect the industry in 2005.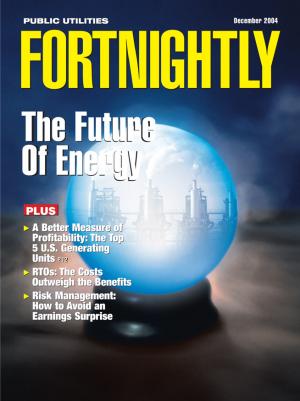 It was the most exclusive, and one might say, one of the most extraordinary dinners. Never have I seen so many prominent CEOs, regulators, and financial gurus all in one room.
Hosted by a top Wall Street investment bank during the Edison Electric Institute (EEI) annual finance conference a few weeks ago, the event was held at San Diego's Museum of Contemporary Art. The museum, situated on top of the high hills of La Jolla and offering a breathtaking view of the ocean, was an unlikely place to discuss the future of the electric industry. But it was understandable, given events earlier that day. EEI had kicked off its finance conference with a number of panels that discussed the future of regulation, the future of power-plant development, and financing.
So there I was at "the dinner" in La Jolla, walking toward my numbered table, wondering what famous person in the industry I might be seated next to. I was not disappointed. At my table was a legendary billionaire financier, a prominent Midwest utility CEO, a top Washington policy guru, a large-cap utility finance executive, and an extremely well-respected energy investment banker.
After exchanging pleasantries, our discussion settled on the Fortnightly and some of the debates and issues that have been prominent within the journal's pages, particularly in the October 2004 issue. As you'll recall, the central issue in that edition was whether growth would be enough to satisfy shareholders in a back-to-basics model.
The Midwest CEO felt the pace of demand for power in his service territory and his corporate earnings would be enough to satisfy shareholders. The other utility executive agreed. But the investment banker politely pointed out that fixed-income securities could outperform utilities as investments (and draw away investors) if interest rates rise. In late November, this became a more pressing concern in the industry when the Federal Reserve raised the benchmark interest rate a quarter percentage point.
The next topic of discussion at the table was the future shape of the industry. The Washington policy guru believed that FERC's market-power test could be one of the biggest issues to define the industry in the coming months. The problem, he said, is that many utilities are planning to build more generation, and then drop it into rate base. But the more generation they drop into rate base, the more market power they will have and the greater likelihood that they will lose market-based rate authority.
While others at the table thought environmental issues and growth issues were shaping the industry, no one thought a "killer application"-like some type of renewable technology-would change the current paradigm of the industry. The promise of a future "hydrogen economy," in their estimation, continues to be decades away, even when environmental considerations are factored in. »
The Duty to Serve: A Double-Edged Sword
At the end of the evening, the Midwest CEO launched into a lengthy talk about the "duty to serve" and