Deck:
FERC may have to carve out a special set of rules if it wants to bring Arctic gas south to the lower-48.
Author Bio:
Bruce W. Radford is editor-in-chief for Public Utilities Fortnightly.
When President Bush signed the Alaska Natural Gas Pipeline Act of 2004, forcing the Federal Energy Regulatory Commission (FERC) for the first time to set formal rules to cover capacity solicitations and subscriptions for a new pipeline, one might have thought that North Slope gas was on the fast track.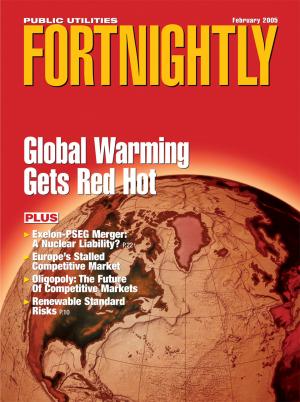 Nevertheless, with all the special provisions that Congress has added to the bill, the reality may prove otherwise.
At a minimum, FERC could find it difficult to put together a logical process for planning and certifying the pipeline without reneging on one or more of its most favored policies on pricing and service. In the worst case, the state of Alaska could decide to frustrate the process if it feels that FERC or the project sponsors are not doing enough to protect its local interest.
And all of that is because of the unusual and special provisions that Congress has added to the law.
At first sight the aim appears simple enough. Why not boost domestic gas supplies? Why not exploit the 35 trillion cubic feet (Tcf) of proven Alaskan gas lying within 100 miles of the existing oil pipeline corridor, of which 32 Tcf is found at Prudhoe Bay and nearby Point Thompson? Bring it all down to the lower-48 and ease energy bills for beleaguered consumers in the nation's midsection. But the new law does more. Not only does it offer financial incentives to project sponsors, such as loan guarantees and preferential rules for depreciation, but as Alaskans see it, the law promises to open up development for the state's "stranded" energy. That term includes the not-inconsiderable reserves of natural gas that are thought to lie below large swaths of Alaskan territory-whether close to the Prudhoe Bay deposits, or far away or even outside the North Slope. And Congress has insisted that FERC must manage this development in a way that encourages a maximum amount of competition and opportunity among oil and gas firms.
In fact, future gas discoveries are widely predicted, and likely would lead to major pipeline expansions. That could help bring retail gas distribution service to Fairbanks and the interior, displacing costly diesel fuel. It would provide alternate gas supplies for Enstar, the gas utility that serves Anchorage, to ensure against the day that Cook Inlet fields give out.
Even FERC Chairman Pat Wood sees the point of honoring Alaska's parochial needs: "I think we all agree it needs to be done," Wood said at a conference in Anchorage in December.
"Senator [Lisa] Murkowski talked about replacing diesel. I mean, obviously the diesel producers won't be thrilled, but everybody else will. ... I think that you would like to drop it off here rather than pay the toll to send it all the way down to Chicago."
All this is laudable. Yet it remains to be seen if it is wise to weigh down a huge capital project with expectations of nation building in a frontier region.
First, by giving the state of Alaska the right to interrupt the certification process to require studies of local gas needs, and how those needs might be met by through local exploration and development (perhaps even creating new retail gas utilities), Congress has added uncertainty to a project already fraught with risk.
Also, by forcing FERC's open-season solicitation process to boost competition among firms in the oil and gas exploration and development sector, Congress is swimming upstream against a current of petroleum industry consolidation. The Prudhoe Bay field once claimed some 17 different companies with oil and gas leases; Point Thomson, to the east, had 26. Now each counts only five. That total includes the "Big 3" (BP, ConocoPhillips, and ExxonMobil), which own the Trans Alaska oil pipeline (TAPS), and nearly all of the 35 Tcf proven gas reserves in the state.
These so-called "big three" would prefer that Congress and FERC step out of the way. Just let us get our own financing, they would say, based on our own credit standing. Let us plan and build the project to just the right scale needed to accommodate the proven gas reserves that we already own on the North Slope. Then, if more gas is found later on, somewhere else in Alaska, we'll deal with that when the time comes.
That's likely the best way to get the pipeline up and running, with the least fuss, but that isn't the way that Congress wrote the law.
Instead, by forcing the project and the FERC rules to foster competition, Congress has emboldened the state of Alaska to demand a laundry list of rights for its local citizens and companies:
No preferential presubscription deals for "anchor" shippers;
Guaranteed future access to pipeline capacity rights, even for gas deposits as-yet undiscovered;
Rolled-in pricing for future pipeline expansions (anticipated to serve those undiscovered fields);
Equal standing for short-haulers in the bid evaluation process, even if capacity prices or transportation rates are keyed to distances or pipeline zones; and
Term limits on capacity reservation contracts, so that today's winning bidders who hold the proven leases (read "the big three") can't monopolize capacity and shut out developers 20 or 30 years down the road, when, as anticipated, wildcatters discover more gas across the State.
The Project
Most observers expect that Big 3 will sponsor and build the initial pipe.
In April 2002, presenting the results of a $125 million feasibility study, the big 3 Alaskan oil majors said it could take five to six million tons of steel and more than 50 million construction man-hours to build a 3,600-mile-long pipeline to bring Alaskan gas to the lower 48. That's 1,800 miles ($7 billion to $10 billion) to Alberta, and then another 1,800 miles of new pipeline from western Canada to reach markets in eastern Canada, the American Midwest and Pacific Coast. That also would assume a 52-inch pipe carrying (in its initial stage) between 4 and 4.5 Bcf/day, with a likely transportation cost of $1.98/Mcf to Chicago, plus an added 41 cents/Mcf for gas treatment services. (The project would likely feature a gas conditioning plant on the North Slope to remove corrosive carbon dioxide and other impurities, to raise the gas to "pipeline quality.")
By way of comparison, the TAPS oil pipeline is only 48 inches in diameter.
According to reports sponsored by Anadarko Petroleum Corp., the proven 35 Tcf could fill a 4.5-Bcf/day pipe for the equivalent of 19 years (in reality, production would decline gradually, with at least some throughput stretching out for 30 years or so. But most observers expect that other, as-yet unproven Alaskan gas reserves would come into production during that period, encouraging any number of phased-in expansions.
A likely scenario, outlined by the Legislative Budget and Audit Committee of the Alaskan state legislature, and corroborated by other observers, predicts an initial expansion to about 6 Bcf/day by adding relatively inexpensive compression capability. Further expansion to 7 Bcf/day would require relatively expensive looping. At that point, more compression could again add some additional level of capacity. At the end of the day (20 to 30 years or so down the road), the pipeline might be carrying 10 Bcf/day.
In fact, even without such expansion, the Big 3 concede that they would remain dependent on some of this new production coming on line. If you assume a minimum 30-year useful life for the initial pipeline, the sponsors would need 50 Tcf to keep it fully utilized, or about 15 Tcf in new production. That 15 Tcf represents about 2.5 billion in equivalent barrels of oil (BOE). So if you assume gas-finding costs of about $1.00 BOE, developers will need to invest about $2.5 billion to keep the initial pipeline at full bore over its 30-year design life, even without expansion. The Big 3, which offered this analysis, says it would take 15 years to find this 15 Tcf of gas, given current spending rates of $150 million/year on exploration and development.
Local State Needs
"I cannot stress enough," said Tom Irwin, Alaska state revenue commissioner, speaking at a technical conference held in Anchorage in December (with all four FERC commissioners in attendance), "that while Prudhoe Bay and Point Thompson will anchor the project, they are only the tip of the iceberg.
"I firmly believe," he added, "we will see gas production from the Brooks Range, the foothills, NPRA [National Petroleum Reserve in Alaska], the central North Slope and ANWR. Kuparuk River exceeds 100 Bcf."
Irwin's comments underlie the sense in Alaska that any pipeline project that gets built should not be designed only to help the Big 3 export their proven gas holdings. Rather it should help provide a financial incentive to encourage the state and smaller private energy firms to compete against the Big 3 by exploring, confirming and developing other gas reserves that could be ten times as great. But that exploration and development won't come about if fears persist that newfound gas won't find enough pipeline capacity available to get to market when it comes under production.
As Robert Loeffler put it (private counsel for the state's department of revenue), "Alaska has had a long history of resources being shipped out of the state. The state does not think of [itself] as a province just for extraction."
In fact, the act also gives the state of Alaska the specific right to request a hearing at FERC to guarantee reasonable access to transportation services for "royalty" gas that the state itself owns. (See, Alaska Natural Gas Pipeline Act of 2004, secs. 103(e)(2)(B), 103(g), 103(h), Public Law 108-324, Oct. 13, 2004, 118 Stat. 1255, 15 U.S.C. secs. 720 et seq. The law was actually enacted as a part of H.R. 4837, the "Military Construction Appropriations and Emergency Hurricane Supplemental Appropriations Act, 2005.")
The idea that the state could interrupt the certification process clearly caught FERC Chairman Wood by surprise at the December conference.
Wood: We just heard here from Commissioner [Bill] Corbus [Alaska Dept. of Revenue] about [section] 103(h). Bill, let me just ask you on that one. You said that the State may ask during the pendency of an open season to basically trigger this provision. Is that what you said?
Corbus: Yes.
Wood: What would happen as a result of that? ... Tell me what this would do. I'm just trying to conceptualize how that would work."
Consider that Enstar Natural Gas Co. serves as the retail gas distribution utility for the Anchorage area, relying on nearby gas production from wells in the Cook Inlet, but experts predict that the Cook reserves will run out at least by 2013, with severe shortages looming even sooner. Enstar President Tony Izzo said in December at the Anchorage conference that without additional exploration in the Cook Inlet, "in 2009 we will not have enough gas in this region for power generation or home heating."
Open Season and Bidding
An open season is a delicate, chicken-and-egg thing. Project sponsors need customers to commit to buy capacity to attract financing. But customers don't want to commit until they see the parameters: route, size, pressure, configuration, delivery and receipt points, minimum gas quality standards, fuel retention percentages (for compression), projected in-service date, rates, and so forth. Yet the sponsors will often say that they cannot specify such information without at least some input from actual capacity bids.
To solve the problem, some projects will line up a core group of customers (called "anchor shippers") in a private pre-subscription that precedes the actual open-season bidding. In fact, FERC's proposed regulations, slated to become final in early February after any required tinkering, state in the preamble that two open seasons might be required for the Alaskan project-one exploratory and tentative, the other binding. Most parties commenting on the problem have supported the section in the proposed rules that listed some 16 different categories of data that must be disclosed to capacity bidders as part of any open-season process. But many others have objected to any catchall rule that would force sponsors to disclose any other presumably relevant data. (See proposed regulations, Docket No. RM05-1, filed Nov. 15, 2004, 109 FERC ¶61,160.)
In prior pipeline projects, FERC has endorsed a private pre-subscription for anchor shippers where the project was being built to serve specific producers, or where construction risk is extreme, such as for a pipeline traversing the OCS. (See, Green Canyon Pipeline Co., 47 FERC ¶61,310 [1989]; Garden Banks Gas Pipeline, LLC, 78 FERC ¶61,066 [1997].)
In the case of the Alaska project, most state interests oppose the anchor/presubscription idea unless the anchor shippers are required eventually to conform to the open-season rules when the final binding round capacity bidding is conducted. On the other hand, the Big 3 counter that as long as any potential shipper is given the chance to participate at the start as an anchor, the process will be fair enough. (See Comments of BP Exploration Alaska Inc., ConnocoPhillips Co., and Exxon Mobil Corp., FERC Dkt. No. RM05-1, filed Dec. 17, 2004.)
Once the bids are in, the FERC regs as proposed contemplate that the project sponsor(s) will evaluate the capacity purchase bids (presumably, in terms of net present value [NPV]) and select the winners. But some worry that the sponsors might twist the evaluation of bids to favor certain shippers.
The state of Alaska notes that developers in other, as-yet-unproven in-state gas fields will not need transport service for a decade or more. The state alleges that the Big 3 majors, as shippers bidding on their own project, might offer capacity purchase bids over 20- or 30-year terms, locking up capacity and shutting others out down the road. They urge FERC to mandate a bid evaluation method that grants no "extra credit" in the NPV determination for contract terms that exceed 20 years. Shell USA, an oil major not part of the Big 3, notes that in prior projects, FERC has held that shippers are not "similarly situated" to each other if their bids differ on account of volume, contract term, receipt points or start dates. Thus, says Shell, FERC has permitted project sponsors to use such difference in the bid evaluation process to justify a contract award.
"It will not be difficult," Shell adds, for the pipeline "to structure the bidding and capacity award process of the open season to prefer the current producers in the area."
Calpine, which claims to represent 3 percent the total U.S. gas buying market, and says it will be buying up to 3.5 Bcf per day by 2010, argues that bidders can artificially inflate the duration terms of their capacity bids, and says it has happened before in the Pacific Northwest (with terms bid as long as 50 years).
On the other hand, the Big 3 reply that bid terms should be given full NPV credit at terms at least as long as 30 years-the nominal useful life of the pipeline.
Pricing and Expansions
The question of how the initial pipeline would expand to accommodate future increases in Alaskan gas production, and how the pipeline would set prices to be paid by shippers for access to that new capacity, marks the most contentious issue surrounding the development of an Alaskan gas pipeline.
As a general rule, until the 1980s, FERC had tended to require gas pipeline sponsors to take expansion costs and roll them into the existing rate base, boosting rates for all shippers, old and new, if the pipeline operated as an integrated system. But that rule applied during the days when pipelines were gas suppliers and provided bundled transportation and sales service.
Starting a decade ago, however, with its 1995 statement of policy on pricing for new and existing interstate pipelines (71 FERC ¶61,241), FERC has been moving away from the idea of rolled-in pricing for gas pipeline expansions. With its current statement of policy, issued in 1999 (88 FERC ¶61,227), FERC has come to embrace incremental pricing; the shippers to buy the expanded capacity pay the full cost of the expansion. Older shippers who subscribe to pre-expansion capacity don't have to pay for the new build.
In Alaska, however, we won't see but one pipeline built. And with the likelihood of much future exploration, it is underbuilding, not overbuilding, that may prove to be the real evil.
In fact, in recent years, FERC has OK'd incremental pricing for at least a couple of new pipelines designed to bring new gas fields to market, and with ongoing exploration activity, like Alaska. So says the Brattle Group, a Boston-based consulting firm working on the Alaska case on behalf of the Big 3. It cites the Kern River and the Maritimes and Northeast pipelines as examples.
According to Brattle, the M&NE pipeline, built concurrently with ongoing offshore exploration around Sable Island (another high-risk and challenging area in which to drill), and with an eye toward developing a new gas utility in Nova Scotia, exhibits policy parallels with Alaska.
By contrast, however, Canada has tended to favor rolled-in pricing for pipeline expansions, according to comments filed at FERC by certain Alaska state legislators, together with the legislature's budget and audit committee.
As they point out, Canada's National Energy Board OK'd rolled-in pricing in a 1990 order for a $2.6 billion pipe expansion designed to serve Northeast U.S. markets that doubled the cost-of-service rate base for TransCanada. (See, NEB Docket GH-5-89, Nov. 1990.)
The roll-in reportedly led to a 1.5 percent increase in the residential retail price of gas and a 2.9 percent increase in the retail industrial price. According to the Alaska legislators, the NEB rejected any concept that the mere payment of tolls by older established shippers conferred some sort of future right to be exempted from a toll increase. The legislators and other Alaskan interests believe that since the Alaska pipeline project will traverse Canada for long stretches, that FERC should adopt rolled-in pricing to mesh with the Canadian policy.
The Big 3 acknowledge the Canadian policy, but counter that when NEB Senior Counsel Margery Fowke testified before the Budget and Audit and Alaska state Senate Resources Committees earlier in 2004, she stated that the NEB followed no formal policy on the issue of rolled-in versus incremental rates. In fact, the Big 3 claim that Fowke testified that the board would not consider itself bound by prior decisions.
A Shot Across the Bow?
Is there cause for Alaska somehow to mistrust Big 3 oil majors?
In a decision issued in 2002, the Regulatory Commission of Alaska (the state's equivalent of a public utility commission) ruled that rates for intrastate transportation of oil on the TAPS oil pipeline had exceeded just and reasonable rates by 57 percent over the four-year period 1997-2000. (See, RCA Dkt. No. P-97-4, Order No. 151).
In an order issued on June 10, 2004, the RCA found that intrastate rates for 2001 and 2002 were unreasonably high as well, and ordered refunds. Both these RCA orders are under appeal, according to Alaskan state legislators.
At the technical conference in Anchorage in December, representatives of state of Alaska reportedly had indicated that the state intended to ask FERC to initiate a new rulemaking proceeding early in 2005 to consider in advance what rates to charge for an eventual expansion of any planned Alaska pipeline.
No such request appeared to have been filed at FERC, at this writing.