Deck:
Where Entergy leads, will Wal-Mart follow?
It's only the beginning of the beginning, but Entergy's move to form a single-company RTO-lite across its service territory in Arkansas, Mississippi and Louisiana has everyone talking.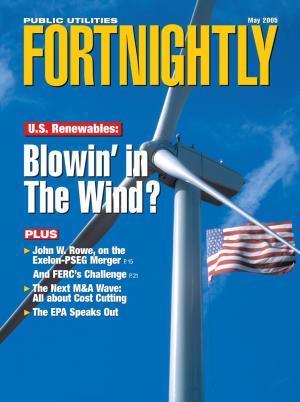 With its novel plan, Entergy has now found a way to embrace the concept of a regional transmission organization (RTO) and yet save face, without surrendering to full federal oversight.
It could even lead to a pilot program for retail electric competition for industrial and commercial customers.
With Entergy's lead, will we see a restructuring of energy markets across the entire Southeast, including such giants as Duke Energy and Southern Co.? That's the question that everyone thinks, but few dare to ask out loud. Up until now, with the possible exception of Virginia (where Dominion has thrown in with PJM), the South has remained "solid"-solidly against RTOs and their market regimes.
On March 22, the Federal Energy Regulatory Commission (FERC) offered its guidance on how Entergy Corp. could establish an independent coordinator of transmission (ICT) and implement an experimental transmission pricing policy.
FERC officials say that the coordinator would carry out five of the eight functions the commission has assigned generically to RTOs. Entergy's transmission pricing proposal is limited to a two-year experimental period under the order and is conditioned on an ICT proposal to add monitoring and reporting conditions.
Entergy's proposal divides transmission upgrades into two categories: "base" plan upgrades, necessary for reliability, that would continue to be rolled into transmission rates, and supplemental upgrades that would be directly assigned to the interconnection customer. And FERC's order calls for the ICT, rather than Entergy, to establish the initial base plan-i.e., to determine which upgrades would qualify as needed for reliability.
FERC said it expects Entergy to hire the Southwest Power Pool (SPP) to serve as the ICT. Having SPP, which has been approved as an RTO, will ensure the ICT's independence, the commission said. The ICT's responsibilities are to include: granting or denying requests for transmission service; operating Entergy's OASIS; calculating available flowgate capacity; and transmission planning.
The order also required Entergy to file additional tariff information specifying the responsibilities and duties of the ICT and to state clearly the ICT's authority regarding requests for transmission service (the additional tariff information had not yet been filed at press time).
Naturally, because Entergy's proposal does not transfer complete control over the operation of the transmission system to the ICT, industry observers are still concerned that there will be undue discrimination. Hence, FERC's two-year time limit on Entergy's transmission plan. But FERC and the industry hope the two-year plan will allow the opportunity for "retail regulators of the Entergy system to see the benefits of a more-open transmission system first hand and consider supporting the ICT assuming operational control over Entergy's transmission system in the future."
Meanwhile, if Entergy is successful, many wonder which company would be next to form an Entergy-like RTO in the Southeast.
The View From Atlanta
David M. Ratcliffe, CEO at Southern Co., said he was encouraged by the developments at Entergy but is taking a wait-and-see approach before his company revives its own single-company RTO plan.
"Do we have an RTO that the FERC chairman would like to see? No. Is the Entergy decision a step in the right direction that would accommodate something less than a mandated RTO of the chairman's design? Hopefully so," he said.
Ratcliffe believes there should be different RTO models that reflect the regional differences across the country.
"What we were optimistic about was that Entergy had proposed something that was directionally appropriate but not as cumbersome as a full-fledged RTO," he noted.
"We have to wait and see … the details that FERC actually decided as it becomes written. What are the ongoing requirements that Entergy must comply with in order to get FERC approval?"
But even if Ratcliffe likes what he sees in Entergy, Southern probably will not attempt to resurrect the old SeTrans RTO in single-company format.
"I think SeTrans is not going to be resurrected," he explained. "But there might be something in between SeTrans rans and where we are now. We've always said that we were willing to explore those ideas."
Also, Ratcliffe does not believe an Entergy-like RTO would be required necessarily to jumpstart a viable wholesale energy market in the Southeast.
"We already have one," he declared. "I would argue that the wholesale markets in the Southeast are open." In fact, Southern Co. has a financial target to achieve $300 million in earnings by 2007 from its unregulated division in the Southeast. This would mean the company would enjoy 15 and 20 percent growth per year in its competitive business for those three years, he said.
To be clear, 80 percent of Southern's earnings still come from its regulated business, but now almost 20 percent of Southern's earnings come from its unregulated business. Ratcliffe says Southern's unregulated customer base is made up of co-ops, municipals, and other utilities. Some in the investment community have questioned how long Southern can maintain such growth levels without a more competitive market to support the expansion of its competitive business beyond 2007. Of course, Ratcliffe strongly believes the growth in his service territory and in the surrounding region is enough to support his unregulated business in 2007 and beyond.
But what's sauce for the goose is sauce for the gander, and some industrial and commercial customers in the South (the Louisiana region specifically) believe the Southerns of the world should not be the only ones to benefit from increased competition. These industrials have been voicing their opinion lately in response to an independent study conducted last August into a limited industrial retail choice plan.
The study was conducted on behalf of the Louisiana Public Service Commission and several other stakeholders in response to concern by many that the state has been losing jobs and manufacturing to high-energy costs. According to the U.S. Department of Energy, Louisiana is currently paying the highest industrial electricity rates in the Southeast. The study projects hundreds of millions in savings, under two different scenarios. And to see why that's so important, just listen to the response from the region's (and the world's) largest commercial retailer.
Wal-Mart Comes Calling
No one has more to lose from high energy prices that retail behemoth Wal-Mart. The company is one of the largest consumers of electricity in the nation's 50 states. Last year, for example, Wal-Mart spent over $1 billion on electricity nationwide, and expects the costs to continue to rise in 2004 and beyond at a rate significantly in excess of its building space growth rate.
In papers filed with the state PSC, Wal-Mart argues that a "properly structured" retail access plan in Arkansas can offer lower-cost power for large electric users, plus gains in generating efficiency and improvements to "overall business productivity and competitiveness."
Wal-Mart draws on its own direct experience for these conclusions, as the company says it already participates in competitive electric markets in various parts of the country. Certainly, if Wal-Mart can see the benefits of competition, than so can most other industrial and commercial customers.