Deck:
The CEO Power Forum: Not all utility CEOs are created equal...
The CEO Power Forum: Not all utility CEOs are created equal...
Wayne H. Brunetti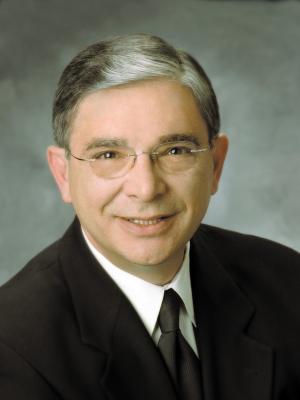 Chairman and CEO, Xcel Energy 
"People have approached us to outsource our call centers to India. I'm just not going to do that. To me the face of our company is our call centers. That's our  principle contact with our customers."
Public Utilities Fortnightly   How does Xcel Energy distinguish itself from its peers?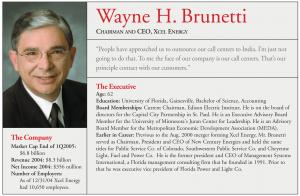 Wayne Brunetti   As you know, we have gone back to our core business … and are in the process of divesting ourselves, of virtually all of our non-electric and gas operations. Then the question becomes, where do we go from here and what do we do? Our corporate goal is to deliver a 7 to 9 percent return to our investment, [what] we believe is a low-risk strategy. We call it building the core. 
We are a fully integrated utility holding company that operates four operating companies in 10 states. As a business strategy, we are not going to stray from our core regulated business. Sometimes I step back and ask the question—particularly with the movement that we had a few years ago as to a breaking up of the industry into its component parts and having competitive retail markets—why that hasn't happened with us. I think the principal reason is that if you look at our rates compared to those states that have gone through that restructuring, our rates our relatively low compared to them.   
Fortnightly   How do you define the core?     
 Brunetti  We are both an electric and gas LDC company, and our core business is selling electricity and gas. That is our core business, including the production, delivery of electricity, and only the delivery of gas. We are not in the production business on the gas side of the business. That is our core business.  
Fortnightly  How do you hope your business process Utility Innovations technology project will distinguish your utility from other utilities?  
 Brunetti  If you think about the very nature of being a regulated integrated utility, one of the things that drives a lot of our thinking is providing the best service to customers. It's kind of a simple straight-forward strategy. If you don't keep customers happy, regulators won't keep you happy, which in turn won't keep investors happy. 
So we start from the premise that you have to provide exceptional service to customers. That fundamentally has driven our Utility Innovations process. Many of the processes we have have been around for a long, long time, 50 years plus maybe. … I think the Utility Innovations project is one that steps back and says, "What if did something different? What if we could do something differently?" 
The Utility Innovations is kind of an evolutionary process that really started back in 1996 when we decided back in the Public Service Company of Colorado to outsource out IT operations to IBM. That has evolved to what I would call a true partnership. We have probably one of the