Deck:
Warren L. Robinson, Executive VP and CFO, MDU Resources
Author Bio:
Richard Stavros is Fortnightly's Executive Editor.
Do you think the repeal of the Public Utility Holding Company Act will mean more consolidation? If so, what do you foresee?
Warren L. Robinson: I believe that there will be further consolidation. I don't know that the repeal will have a tremendous amount to do with it. There will obviously be a positive impact. But I think many companies, if you look at Warren Buffet, Duke, and others, have been ignoring the holding company act already. I think it was a foregone conclusion that would be repealed at some point. But the fact that it has gone away I think will take away any reasons that companies might have for saying that they really can't look beyond their traditional areas ... I think the state regulators will be focused on how mergers will affect the ratepayers. ...
Now, I do think you are going to see continued consolidation [by] people like Warren Buffet that have an expertise in the business. Generally, I think it is a very positive development, but I don't think it is going to be a massive change in the outlook for utilities.
What is the percentage breakdown of the business line contribution to the bottom line? How do you think your earnings mix might change in the future?
WLR: What I'll do is give you 2004, and I'll comment on how that might change for 2005. Our natural gas and oil production had 54 percent of the earnings last year. That is a little larger than what historically it's been. But that is because of the higher commodity prices. But it will be in that range again this year because commodity prices continued to be very strong. Our construction materials business is about 25 percent. Our IPP business in 2004 was 13 percent. The utility business (both electric and gas distribution combined) was 7 percent. Our pipeline and energy services were 4 percent. Now, the utility services were in a loss position [in early 2005], but we're experiencing a turnaround. So, [in 2005] it is going to be in the range of 5 percent to 6 percent of earnings, and I would say the pipeline's [earnings] is in the 5 to 6 percent range and the utility would be in the 6 percent range. The rest of them are going to be relatively close to what they were last year.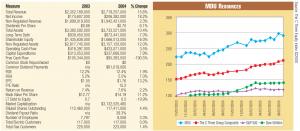 The CFO of Occidental believes there will not be convergence between oil and utilities because of cultural differences in both industries. Is that your view?
WLR: Well, I have to speak from our perspective. There clearly is a different mentality that goes with running a utility versus the development of oil and gas reserves. There is no doubt that there can be conflicts there unless you have the expertise within the company and understand the differences and manage them appropriately. For example, we really have a separate management team that manages our oil and gas interests than the one that manages our utility interests. And frankly if you look at our various business segments, we have business executives, chief executives officers, at each one of these lines of business that are really focused on the specific mission of that business unit. Unlike what some utilities have done in the past, where you run the business in and try to manage it from the top with one management team, we've never chosen to do that. We are very decentralized in terms of our management teams that operate each of the business segments. Of course, that is one reason that MDU Resources has been so successful over the years in terms of our growth program.
How does MDU Resources define success?
WLR: I'll give you a few statistics. In the last 10 years the compound annual growth rate in revenues for our company has been 20 percent. The compound growth rate in earnings has been 18 percent over a 10-year period. ... Our one-year total return to shareholders has been 20 percent. Our three-year total return has been 21 percent. Our five-year total return has been 18 percent. Even if you go back 20 years, we have provided a total return on an annual compound basis of 14 percent. So, our strategy has not been a short-term strategy. We have provided success to our shareholders. … This is not a new strategy, this a proven strategy. So, we have had substantial growth. And it has really been growth in all of these lines of business. We really manage each one of these businesses separately and stay focused on the disciplines and the characteristics of that industry or that business that make it successful. We don't try to interfere with the management of those operations. … We think that our ability to grow into the future has never been better than it is right now.
From a strategy standpoint, why is it advantageous to wed an oil & gas operation with an electric or gas utility, as MDU Resources has?
WLR: In the case of our company, we have been a utility for 81 years. We started in 1924. And when we first started we were using natural gas as a fuel source for generation. That caused us to do some exploration for oil and gas reserves. In the 1920s we discovered some oil and gas reserves. From there, we then developed our pipeline and our natural gas distribution business as we developed the natural gas reserves. So, that put us in the pipeline business. We continued to grow and maintain that expertise in the oil and gas area. In the mid-1980s we really broke it out and started to develop outside of our region oil and natural gas fields to supplement the reserves that we had. So, today we now have reserves that stretch all the way from the Canadian border down into the Gulf of Mexico. But if you trace it back it really started in the 1920s, focused on how we used the oil and gas for our utility customers.
What made you get in to the independent power producer (IPP) business? How has your experience been different?
WLR: All of the generation we own is under contract with investment-grade customers. Again, it is a way of taking our expertise from the utility business and expanding geographically into other areas, including international. We are a unique company in the sense that every business that we are in basically has its roots with the original utility operations. We only do those things that we really know how to do. And you can trace each one of our lines of business back to the foundation of the utility that was formed back in 1924. What we have done has not been a revolution where we have gone out and bought these businesses. ... It has evolved. We've started slow and we've grown that business internally and built a sizeable business unit in each of these lines.
If in fact oil and gas prices are to moderate in the next few years, as some experts predict, what will MDU Resources do to replace those lost earnings?
WLR: That's an easy answer for us because we have all of these other business lines where we can continue to grow, where a lot of companies that are strictly focused on oil and gas will have a tough time replacing those [earnings]. Our construction materials business is in 11 states right now. The highway spending bill passed by the federal government is the largest highway spending bill in the history of the United States. So, for the next four years you are going to see record spending-not only in the states we're in, but throughout the United States. … We do construction such as highway work, bridge work. It is actual construction work using sand and gravel reserves. Last year the business was $1.3 billion in sales, providing 25 percent of our earnings. So, you can see that business is going to grow. ... We do believe oil and gas prices will pull back as well. So, companies will have to figure out how to replace the earnings that we have seen from these very high prices. We are [also] growing our utility. Because we believe the utility infrastructure in this country is in need of repair. So, our [utility services business] is going to continue to grow. We are going to double our utility in size over the next 10 years. So, we have a number of ways that we can continue to grow our earnings in to the future.