Deck:
Warren L. Robinson, Executive VP and CFO, MDU Resources
Author Bio:
Richard Stavros  is Fortnightly's Executive Editor.
Warren L. Robinson, Executive VP and CFO, MDU Resources
Do you think the repeal of the Public Utility Holding Company Act will mean more consolidation? If so, what do you foresee?
Warren L. Robinson:  I believe that there will be further consolidation. I don't know that the repeal will have a tremendous amount to do with it. There will obviously be a positive impact. But I think many companies, if you look at Warren Buffet, Duke, and others, have been ignoring the holding company act already. I think it was a foregone conclusion that would be repealed at some point. But the fact that it has gone away I think will take away any reasons that companies might have for saying that they really can't look beyond their traditional areas ... I think the state regulators will be focused on how mergers will affect the ratepayers. ...
Now, I do think you are going to see continued consolidation [by] people like Warren Buffet that have an expertise in the business. Generally, I think it is a very positive development, but I don't think it is going to be a massive change in the outlook for utilities.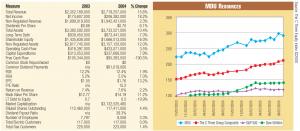 What is the percentage breakdown of the business line contribution to the bottom line? How do you think your earnings mix might change in the future?
WLR: What I'll do is give you 2004, and I'll comment on how that might change for 2005. Our natural gas and oil production had 54 percent of the earnings last year. That is a little larger than what historically it's been. But that is because of the higher commodity prices. But it will be in that range again this year because commodity prices continued to be very strong. Our construction materials business is about 25 percent. Our IPP business in 2004 was 13 percent. The utility business (both electric and gas distribution combined) was 7 percent. Our pipeline and energy services were 4 percent. Now, the utility services were in a loss position [in early 2005], but we're experiencing a turnaround. So, [in 2005] it is going to be in the range of 5 percent to 6 percent of earnings, and I would say the pipeline's [earnings] is in the 5 to 6 percent range and the utility would be in the 6 percent range. The rest of them are going to be relatively close to what they were last year.
The CFO of Occidental believes there will not be convergence between oil and utilities because of cultural differences in both industries. Is that your view?
WLR: Well, I have to speak from our perspective. There clearly is a different mentality that goes with running a utility versus the development of oil and gas reserves. There is no doubt that there can be conflicts there unless you have the expertise within the company and understand the differences and manage them appropriately. For example, we really have a separate management team that manages our oil and gas interests than the