Deck:
Debate continues on how to safeguard America's energy infrastructure.
Author Bio:
Richard Stavros is Fortnightly's Executive Editor.
It has been an unimaginable human tragedy on every score. In the wake of Hurricane Katrina hundreds of lives were lost, the city of New Orleans was decimated, the Gulf Coast ravaged, and major portions of our nation's energy infrastructure left in tatters. The central question: Could any of this have been avoided?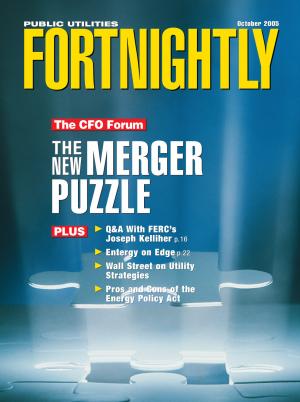 According to a study by the Rand Corp. from 2003 (Assessing Federal Research and Development for Hazard Loss Reduction), the United States has seen a decline recently in the number of lives lost to natural disasters (volcanoes, earthquakes, landslides, tsunamis, etc.). Rand attributes building code improvements and efforts to sustain infrastructure with reducing the number of lives lost due to natural disasters. 
Yet at the same time, Rand found (citing GAO numbers) that financial damage has grown:  "Between 1978 and 1989, Federal Emergency Management Agency (FEMA) disaster relief fund expenditures totaled about $7 billion. In the next dozen years, however, that number increased almost fivefold, to over $39 billion."
And these costs include repairs to utility systems.
A report conducted early this year by the Edison Electric Institute, After the Disaster: Utility Restoration Cost Recovery, analyzes the various tools the electric utilities use to deal with the financial impacts of disaster restoration. The study, based on data obtained for 81 major storms and from 14 utilities between 1994 and 2004, found that utilities spent approximately $2.7 billion to recover from these storms.
Is Global Warming to Blame?
Policymakers and scientists are at odds over the impact of global warming. According to press reports, most climate change models predict more frequent hurricanes, and as mean temperatures rise worldwide, it's hard not to make a connection between the two. But some experts say hurricane-scale storms occur all over the world, and in some places—including the North Indian Ocean and the region near Australia—the number has actually fallen. Rand finds that "it does appear claims that a dramatic rise in the numbers and intensities of hazards are not generally supportable." 
In fact, the Rand report says that much of the destruction hurricanes have wrought is due to swelling numbers of coastal residents and the proliferation of property development in coastal areas, both of which contribute heavily to economic loss. Moreover, more than 50 percent of U.S. citizens now live in coastal areas, where they are vulnerable to flooding and hurricanes.
"Such demographic changes have contributed noticeably to the rise in losses—the more people and property in a high risk area, the more … damages."
The EEI report supports these findings. It states, for example, that during the 10-year period from 1993 to 2004, Florida utilities expanded their electrical system to serve approximately 1 million additional customers. EEI finds the 20 percent increase in customers likely contributed significantly to the total costs Florida utilities incurred to repair their electrical systems after the 2004 hurricanes. Of course, the four hurricanes that hit Florida in 2004 and the devastation from Katrina in 2005 has highlighted the lack of consistent and uniformly applied structure for disaster restoration cost recovery. Many experts say that lack
of consistent mechanisms may be impeding economic recovery and development.    
Cost Recovery Mechanisms: Completely Inadequate
At press time, Entergy released a preliminary cost restoration estimate associated with Hurricane Katrina of $750 million to $1.1 billion, which includes costs to repair or replace damaged electric and gas facilities and business continuity expenses. The utility reported it would be eligible for recovery of a large portion of these costs from federal disaster aid legislation or through rates. Yet, Entergy was, at the time, contemplating a Chapter 11 filing for its New Orleans utility subsidiary, or other alternatives to maintain liquidity and protect its legal rights and those of its affiliates. Wall Street at the time continued to support Entergy by maintaining its equity research ratings, and noting that the utility subsidiary accounted for less than 5 percent of earnings in the first half of 2005.
Such support has not always been forthcoming. According to EEI, in at least one instance, Wall Street changed its credit outlook for one of the utilities that faced significant hurricane costs in 2004, in part because of concerns over how quickly a decision favorable to the utility would be reached to mitigate the financial impact of restoration expenses. Why should a utility have to contemplate bankruptcy or credit deterioration for incurring costs that are really a normal part of its operations? EEI identifies three separate problems in utility cost restoration recovery: 
There is little consistency in establishing which events do, or do not, qualify for disaster mitigation. For example, one company was required to expense approximately $160 million of operations and maintenance (O&M) storm costs associated with a major hurricane against current year earnings, while another utility was allowed to recover a $1 million storm expense over a four-year period.

Storm reserves provide a type of self-insurance to pay for major storms. However, they may not be funded sufficiently 

to pay for catastrophic storms. In most instances, these reserves do not provide a ready source of cash to pay for storms. 

When faced with significant O&M restoration costs that could require a substantial write-off, many companies 

are permitted by their commissions to defer the costs. But there often is a lengthy delay in providing this relief and the approval process can become politicized. 
What Must Be Done: Insurance as an Answer?
Many experts believe that the new authority given to the Federal Energy Regulatory Commission to enforce mandatory reliability standards, as per the Energy Policy Act of 2005, will bring greater transparency to the process of protecting critical infrastructure. 
This would be a necessary first step in enhancing the role that insurance could play to support or encourage critical infrastructure protection. According to Dr. Kenneth Friedman at the Department of Energy (DOE), writing in George Mason's critical infrastructure newsletter, the Florida hurricanes of 2004 demonstrated the potential of insurance to mitigate the financial consequences of major natural and man-made events. Friedman writes that stricter underwriting standards imposed by the insurance industry after Hurricane Andrew in 1992 may have limited some of the damage from the 2004 storms. 
One hurdle, admittedly, which was voiced many times at a recent meeting with the insurance industry sponsored by the DOE and the Critical Infrastructure Protection Program at George Mason University School of Law, was the problem of adverse selection—a phenomenon where the only parties interested in the insurance are those that need coverage the most. Participants at the conference called for a range of possible alternatives to the traditional avenues for cost recovery, such as requiring mandatory insurance for all transmission systems or using various insurance instruments as a supplement to self-insured reserve funds.
Incentives for sorely needed infrastructure investment (particularly in transmission) are a major focus of the Energy Policy Act of 2005. It will be up to federal and
state regulators to make good on that promise. Creating a consistent plan for utility restoration cost recovery would be a good start.