Deck:
The battle for the future of coal-fired power is heating up. Recent developments give IGCC a fighting chance.
Author Bio:
Michael T. Burr is Public Utilities Fortnightly's editor-at-large. Contact him at burr@pur.com.
Florida is growing—fast. If trends continue as expected, the state's population could increase by one-third in the next 10 years, putting stress on virtually all public services in the state, from roads to water systems … and, of course, energy infrastructure.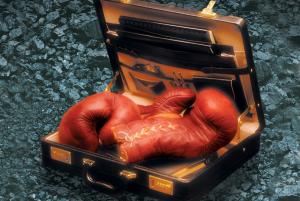 The state predicts power consumption will increase by 58 percent in the next 15 years. Even with increasing contributions from conservation and renewable energy projects, Florida utilities need to add several large power plants in the next 10 years to keep up with electricity demand.
One of those power plants is being developed by a group of four municipal and public-power utilities, led by Florida Municipal Power Agency and Jacksonville Electric Association (JEA). The fuel choice for this 800-MW project almost was inevitable: Like most of the new base-load power plants being developed in the United States today, the North Florida Power Project will burn coal.
"Considering what's happened with natural gas, coal is the more attractive option," says Gregg Quick, director of corporate planning for JEA. "Coal is a domestic, abundant resource. It is more dependable than natural gas, and it is cheaper."
That doesn't mean, however, that coal is an easy choice for utilities to make. "It is so much more complicated today than it was five or 10 years ago, with fuel price risks and a more challenging environmental arena," Quick says. "With pending legislation and regulations on mercury and carbon dioxide, there are a lot more unknowns today than there were in prior years."
Mercury control is within reach of today's technology, but carbon dioxide (CO2) presents a set of problems that don't have clear solutions. As a result, the possibility of future constraints on CO2 and other greenhouse gases casts a pall of uncertainty over coal-fired power development, and creates a major conundrum for the utility industry.
In northern Florida and about 100 other sites across the country, the dominant factor is the need for greater fuel diversity—or more specifically, less exposure to natural-gas price risks. Recent disruptions in gas supply caused by Hurricanes Katrina and Rita have put an exclamation point on the rallying cry for fuel diversity, but rising gas prices began driving serious concerns in late 2002.
In a world where baseload power requirements could outstrip supply in just a few years, and natural gas is no longer an affordable option, the question is not whether to build coal-fired power plants. The question is, what kind of plant? And the two most logical answers—pulverized-coal and integrated gasification combined-cycle (IGCC) technologies—present their own uncertainties that defy easy solutions.
Utilities, independent power developers, and regulators are grappling with those questions right now, and the conclusions they reach have enormous ramifications for the future of the power-generation industry. At stake is nothing less than the industry's ability to manage both future load growth and regulatory risks, while protecting the interests of ratepayers and shareholders. One path leads to potentially crippling future stranded-asset liabilities, if CO2 constraints render pulverized-coal plants uneconomic; another leads to sobering cost penalties from short-term supply constraints, as generators burn more natural gas to meet base-load demands.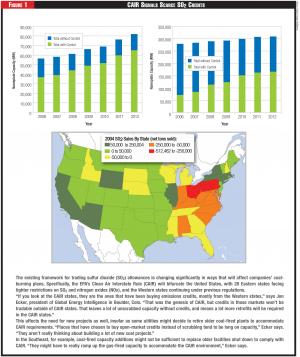 "With high prices for gas and oil, we need to use the plentiful coal we have," says Caren Byrd, an executive director with Morgan Stanley in New York. "But at the same time, the environment is important. IGCC seems to be more environmentally friendly, but the key to financing it will be a clear path to cost recovery."
Supercritical Decisions
Selecting technology for burning coal is a more complicated affair than it was in the past, even though the rules for new power plants haven't changed much since the Clean Air Act was amended in 1990. Companies still must apply the best-available control technology (BACT) to minimize air emissions. But what has changed is the technology itself, and the broader context of environmental sensitivity.
The design that dominates current proposals is a pulverized-coal boiler with low-NOx combustors, flue-gas desulfurization (FGD) equipment, selective catalytic reduction (SCR) systems for absorbing more NOx, and particulate-capture systems for reducing the emission of fine particles.
"Advanced combustion with the latest technology for emissions reduction is vital to the energy security of America moving forward," says Vic Svek, a vice president with St. Louis-based Peabody Energy, the world's largest privately owned coal producer. "The vast majority of the 120-plus plants being developed today use advanced combustion."
Peabody is developing two such plants—1,500 MW each—adjacent to coal mines the company operates in Illinois and Kentucky. Peabody chose conventional pulverized-coal boiler technology because it delivers the greatest bang for the buck, in terms of low capital costs, high output and high reliability. With BACT systems in place, Peabody's facilities will meet today's emissions standards.
However, Peabody's projects will use conventional sub-critical boiler technology, because they will achieve economic efficiency by virtue of being located adjacent to two mines Peabody owns and operates. With the exception of uranium, solid fuels don't get much cheaper than coal at the mine mouth, so the extra cost of supercritical or more advanced technologies generally isn't justified for mine-mouth projects.
In other situations, however, fuel efficiency carries a higher premium, leading companies toward supercritical boilers—high-temperature, high-pressure combustion systems that can produce efficiencies about 5 percent higher than conventional sub-critical boilers. This added efficiency makes a big difference over the operating life of a baseload plant, and in recent years supercritical boilers have become mainstream technology.
More advanced technology options are beginning to make inroads as well, especially as companies and policymakers attempt to address their exposure to the risk of changing environmental regulations, most notably carbon constraints.
"Traditional pulverized-coal plants are the overwhelming first choice, because that's what the industry is used to," says Neville Holt, technical fellow with the advanced coal generation technology program at the Electric Power Research Institute (EPRI). "However, the Energy Policy Act of 2005 has provided incentives for adopting other coal technologies, including IGCC and also perhaps ultra-supercritical technologies with higher efficiencies. The energy bill will assist the entry of these technologies into the market."
Indeed, virtually all companies developing coal-fired plants today are looking closely at IGCC. About 15 percent of the new coal-fired capacity under development today would use IGCC technology (see Figure 2, "Pulverized Coal Dominates").
"We're pushing forward on a lot of fronts, with both conventional coal and IGCC at several different sites," says David Crane, president and CEO of NRG Energy based in Princeton, N.J. "Virtually everywhere we have solid-fuel fired generation now we are doing feasibility studies about whether we can expand or repower. We are very supportive of IGCC, and we expect more than one of our sites to emerge as logical for IGCC development."
NRG's furthest advanced project, however, will add a 675-MW supercritical boiler to the company's 1,730-MW Big Cajun II facility in Louisiana. "We don't see IGCC as the immediate solution because we don't think you can build enough IGCC in the 2008 to 2015 time frame to meet the country's needs," Crane says. "There will need to be an intermediate wave of supercritical plants with the best-available back-end control technology."
Supercritical and conventional pulverized-coal technologies enjoy two main advantages that puts them ahead of IGCC and other next-generation choices, such as fluidized bed combustion (FBC). Namely, pulverized coal plants are cheaper to build, and utilities are very comfortable operating them because they have been using them for decades. The United States relies on coal for just over 50 percent of its power capacity, and almost all of that capacity uses conventional boiler technology.
Furthermore, this long history with pulverized coal technology gives regulators great confidence that capital costs for these projects won't spiral out of control, and they will be reliable providers of low-cost electricity for decades to come.
Still, in the past couple of years IGCC has achieved widespread acknowledgement as a more viable technology choice than ever before. In several states—Illinois, Montana, New Mexico, Georgia, and Kentucky—IGCC has overcome an important hurdle in the power-planning process. Namely, state regulatory officials have determined that requiring IGCC to be considered as an alternative to pulverized-coal boilers does not exceed their mandate to determine what is the BACT for a given proposal. (In at least one case, this has led the developer of a pulverized-coal project—ERORA Group, at its Taylorville, Ill., project—to switch to IGCC.) And in California, regulators effectively have excluded any other coal-burning technology for new plants, in accordance with the greenhouse-gas reduction policies of Gov. Arnold Schwarzenegger's administration.
These developments are encouraging for proponents of IGCC, because if and when the technology achieves the all-important BACT designation, IGCC effectively will trump boilers with back-end cleanup as the technology of choice for burning coal.
"You have to take the 20- to 40-year physical life of the plant and lay against it the 20- to 40-year horizon of environmental requirements," says Mike Morris, CEO of American Electric Power (AEP) in Columbus, Ohio. "When we did that, we concluded that any new coal-fired plant had better be able not only to meet NOx and SO2 controls, but also greenhouse-gas emission controls. We are convinced the likelihood of environmental requirements, including greenhouse gases, will grow, not shrink, over that time."
Applying this analysis, AEP decided IGCC is the most logical approach for the company to take. AEP hopes to build two IGCC facilities, at sites in Ohio, West Virginia, or Kentucky, with startup planned for 2010 and 2011.
Two main factors allowed AEP to become comfortable with IGCC. First, the company evaluated IGCC experience not only in the United States, but also in other countries. Second, a partnership of GE and Bechtel has agreed to supply the plants as AEP's turnkey contractor. "The technology is proven worldwide," Morris says. "And GE will guarantee the performance of the gasifier they design and build for us. We think the landscape is now set for this kind of plant."
Two features of that landscape became significantly clearer in recent months. First, the Energy Policy Act of 2005 (EPACT) authorizes federal loan guarantees and tax incentives for IGCC projects. Federal authorities are working through implementation processes that could conclude with funds becoming available as early as mid-2006. "We don't know yet how EPACT will be applied," Byrd says. "The devil is in the details, and most people are watching to see how those details play out."
Second, the Department of Defense (DoD) recently put significant new weight behind IGCC by announcing it would call for bids to supply coal-derived synfuels on a long-term basis, as part of its Clean Fuels Initiative (see sidebar, "Coal to Liquids: IGCC's Killer App"). "The Department of Defense intends to catalyze commercial industry to produce clean fuels for the military from secure domestic resources using environmentally sensitive processes," states Dr. Theodore K. Barna, assistant under secretary of defense, at a recent industry conference.
Between incentives in EPACT and firm off-take agreements from the DoD, the federal government might be about to push IGCC across the threshold into immediate financial viability.
Environmental Showdown
As IGCC develops toward full commercialization, it is becoming a disruptive technology that changes the planning analysis for new coal-fired generation options. And as with any disruptive technology, IGCC's entry into the market brings the potential for legal and economic conflicts at many levels.
On the local level, for example, IGCC represents an alternative that makes prevailing pulverized-coal technologies look dirty by comparison, which can present legal and public-relations problems for companies that have determined other coal-burning technologies are better choices. For example, the Sierra Club has filed suit to block the state of Illinois from issuing a clean-air permit for Peabody Energy's Great Plains mine-mouth project, arguing that Peabody must consider IGCC as a BACT alternative. In Montana, environmental advocates are lobbying against a 250-MW FBC facility in part on the basis that it would emit more NOx and CO2 than an IGCC plant. And a columnist in the Fort Pierce (Fla.) Tribune accused Florida Power & Light of "turning back the technology clock" and choosing an "unnecessarily dirty" design for its proposed 1,700-MW pulverized-coal project in St. Lucie County.
At the state level, too, the choice between pulverized coal and IGCC is headed for a fight. The California Public Utilities Commission (CPUC) issued orders late last year requiring California utilities to impose a "carbon adder" on fossil-fuel resource options. Although California has not officially defined IGCC as BACT, the state's climate-change policies effectively have eliminated pulverized-coal plants as an option. "We've determined there is a role for coal in California's future, but it must be as clean as natural gas," CPUC Chairman Michael Peevey told Public Utilities Fortnightly. "The only way is IGCC with sequestration."
These policies could lead to a conflict over states' rights if a California utility seeks to import power from a coal-burning facility outside California's borders—as Sempra Energy hopes to do with a 1,450-MW pulverized coal project it is developing in Gerlach, Nev. Other companies similarly are planning coal-fired plants that could supply power to California, and how the state will apply its policies to those projects remains unclear.
"The state's standards are tougher than what is legally required by federal law or neighboring states," says Ed Feo, a partner with Milbank Tweed Hadley & McCloy in Los Angeles. "If the CPUC tells utilities that in order to recover the cost of acquiring power from a coal-fired plant the facility must meet state requirements, the state effectively would be exporting California air emissions standards to other states. That issue has yet to be tested, but it would seem contrary to the commerce clause."
The commerce clause of the U.S. Constitution prohibits states from taxing or restricting interstate trade, and depending on how it approaches carbon constraints, California's climate-change policy might violate this prohibition. Exceptions to the commerce clause exist in cases of legitimate needs involving health and welfare, but using such an exception to regulate out-of-state CO2 emissions might prove difficult. "The state cites immediate and direct health benefits, but it would be tough to argue that case against a plant that is located several hundred miles away in someone else's jurisdiction," Feo says.
Other battles will take place in states where companies are proposing IGCC plants and seeking special rate treatment to recover the additional costs. Securing cost recovery is a vital piece of the IGCC puzzle, because commercial banks will not finance an IGCC plant without unequivocal support from a creditworthy entity.
"Big dollars are at stake," says Byrd of Morgan Stanley. "In principle IGCC can be commercially financed, but we need a utility behind it, with a lease or power-purchase agreement that has been blessed by regulators and perhaps even state legislators. It's hard to see how we'll get much closer until we have a clear rate path to protect against cost overruns and ensure the project is commercially viable."
This dilemma keeps IGCC perpetually knocking at the door of commercial viability. Even a utility dream team like AEP, GE, and Bechtel cannot unlock that door by itself. State regulators hold the keys. But while several states are looking favorably on IGCC—and indeed, Minnesota's legislature passed a bill supporting Excelsior Energy's IGCC project—none have put ratepayer funds behind it.
In fact, in late 2003, Wisconsin authorities rejected Wisconsin Energy's proposed 530-MW IGCC facility on the basis that the technology was not fully commercialized and the risks would impose an undue financial burden on Wisconsin ratepayers. (An appeal of the decision is pending in the Wisconsin Supreme Court.) And Ohio's PUC, for example, has taken a favorable stance toward IGCC, but commissioners promise to hold AEP's feet to the fire on cost issues.
"It's easy to talk politically about the virtues of an IGCC plant, but you can't just do it at any cost," Ohio PUC Chairman Alan Schriber told Fortnightly. "We want to see something that is environmentally friendly, uses our own fuel, contributes to the tax base, and provides jobs, but we will not give a blank check to the utilities. No one knows how much an IGCC will cost at a commercial level."
For AEP's part, the company is seeking approval for costs that it will incur on an incremental basis, rather than attempting to appraise the entire package and present it to regulators. In other words, AEP is seeking rate recovery in phases—early engineering costs, advanced development costs, and, finally, construction and startup costs.
"It is time to constructively re-create the regulatory compact," Morris says. "Regulators and utilities have exactly the same obligation to ensure cost-effective energy for the state. IGCC is a commitment to our customers that says, 'I am going to be here for you.' On that basis, we've made a filing in Ohio asking for a unique rate approach, and if the PUC sees things in the same sense, we will come to a reasoned conclusion to get it done."
CO2 Albatross
Success in Ohio—or any other state, for that matter—will be instrumental in IGCC becoming a primary technology option. Nevertheless, IGCC must overcome some tricky issues before it can realistically displace pulverized coal as the technology of choice for coal-fired generation. Most notably, IGCC presents practical risks that still make many utilities uncomfortable.
"We feel IGCC still has too high of a technology risk, especially for a multi-utility type of project," Quick says, referring to the North Florida consortium of public-power companies. "We continue to look at it, but for a 2012 start date we don't feel comfortable enough with the technology."
This perspective is not just based on risk aversion; indeed, in the 1990s JEA built one of the largest FBC boilers in the country, and overcame significant hurdles to get the plant operating successfully. If any municipal utility is prepared to try out a next-generation technology, JEA is a likely candidate. But as a group, the members of the North Florida consortium have a peak demand of only 5,000 MW, which effectively magnifies the technology risk of IGCC.
This does not rule out IGCC for all public-power applications, of course; Energy Northwest, a joint operating agency of public power utilities in Washington state, is sponsoring a 300- to 600-MW IGCC project. Nevertheless, technology risk remains a concern.
Contractors such as GE and Bechtel are prepared to support IGCC projects with turnkey contracts and performance guarantees, but if all pulverized-coal projects were suddenly replaced with IGCC proposals, contractors would be sorely challenged to fulfill the demand for their services. Moreover, they might not have the credit depth to provide affordable guarantees for such a large fleet of what is, after all, still a leading-edge technology.
"IGCC will slowly increase its penetration, but it has some way to go before it is fully competitive," says Bob McIlvaine, president of consulting firm McIlvaine & Co. in Northfield, Ill. "Utilities are encouraged by IGCC, but they are concerned that there is no experience at the 750-MW level."
Despite these technology risks, at least 18 IGCC facilities are being developed across the country, representing more than 10 GW of capacity and at least $15 billion in investment. Not all of these facilities will move forward, of course, but many are sponsored by creditworthy entities, and they stand a fair chance of success if rate regulators can get comfortable with the costs and risks. In virtually every case, two fundamental questions will make or break the success of IGCC projects:
1) What is the bottom line business case for IGCC today?
2) How will decision makers value IGCC's hedge against the risk of future CO2 constraints?
Both questions must be answered soon, because the clock is ticking on U.S. baseload demand growth. Northern Florida and 100 other markets cannot afford to wait several years until all the pieces naturally fall into place for IGCC. They will invest in new capacity, and until IGCC is ready they seem certain to put their money into pulverized coal. In spite of predictions about future carbon constraints, pulverized coal is today the least-cost option.
At the same time, the same utilities recognize that they are effectively locking in decades of CO2 emissions liability, and exposing their stakeholders to the increasingly plausible risk of regulatory changes that could leave pulverized-coal assets stranded.
"When you look at the life-cycle costs of pulverized coal, IGCC already is competitive," says Julie Jorgensen, co-CEO of Excelsior Energy, an independent power developer that is planning an IGCC facility in northeastern Minnesota. "If you hang your hat on the initial cost of energy, you're using the wrong analysis. You have to look at where emissions limits are now, and where they are likely to go."
IGCC paves the way toward sequestering CO2 while pulverized coal effectively blocks that route. "If we are going to use coal as a national-security tool, we have to be proactive and develop capacity in a way that allows flexibility," Jorgensen says.
Getting state ratemaking authorities to finance that flexibility, however, will remain difficult until they are convinced carbon constraints are inevitable. "The big question, before we totally commit to going down this road, is whether CO2 sequestration is needed," says Holt of EPRI. "It isn't a technical issue, but an economic one."