Deck:
How will the commission answer Congress' call for energy market transparency?
Author Bio:
Michel Marcoux is a partner in Bruder, Gentile & Marcoux LLP, a law firm in Washington, D.C. Contact him at jmmarcoux@brudergentile.com.
How will the commission answer Congress' call for energy market transparency?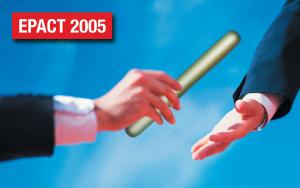 With the Energy Policy Act of 2005 (EPACT), Congress gives a big boost to Federal Energy Regulatory Commission (FERC) efforts to encourage greater transparency of price formation and restore confidence in wholesale energy markets. 1
Determined to forestall repeats of the 2001 crises in the California and Midwest energy markets, FERC already had been encouraging market participants to improve wholesale price formation transparency, accuracy, and reliability. FERC considered both guidance on desirable price index minimum characteristics and standard terms for industry players to report prices to index developers. 2
Following the EPACT promulgation of rigorous criminal and civil penalties, FERC has acted to promote price transparency, among other statutory objectives, by issuing a market manipulation notice of proposed rulemaking and an enforcement policy statement.
In addition, of the more than dozen EPACT-provided rulemakings, two would enable FERC to prescribe wholesale price transparency rules for the country's interstate natural gas and electricity industries.
Given EPACT's plain emphasis on improving gas and electric price transparency in an effort to restore market confidence, implemention of the transparency rules should not be delayed.
Regarding price transparency for energy markets, Congress correctly understood FERC to be saying, in Prime Minister Winston Churchill's 1941 words: "Give us the tools and we will finish the job." Congress has.
A Bird's-Eye View
EPACT § 316 adds a new Natural Gas Act (NGA) provision, § 23, which directs FERC, without setting a deadline, to facilitate price transparency in markets for physical natural gas sales or transportation in interstate commerce by necessary and appropriate rules. Parallel EPACT § 1281 adds a new Federal Power Act (FPA) § 220, which similarly directs FERC to facilitate price transparency in markets for sale and transmission of electric energy in interstate commerce.
Those NGA and FPA market transparency statutes also command due regard for the public interest, gas and electric markets' integrity, fair competition, and consumer protection. FERC's work in recent years to promote wholesale price transparency, accuracy, and reliability constitutes a running start for the multi-tasking mandated by EPACT. Backing up those statutory purposes to promote market transparency are EPACT §§ 315 and 1283 prohibitions on market manipulation. EPACT §§ 314 and 1284(d) & (e), which declare very substantially increased criminal and civil penalties, enforce both the market transparency purposes and the market manipulation prohibitions.
In short, price transparency matters to Congress.
Gas and Electric Transparency Laws Are Parallel
With few exceptions, EPACT sets out identical NGA and FPA market transparency rule requirements. Under longstanding precedent, 3 courts thus may be willing to interpret the new NGA § 23 and FPA § 220 in the same manner, with legal rulings for one industry possibly interchangeable as precedents for the other industry.
The heart of this statutory transparency initiative is that FERC is permitted to prescribe gas- and electric-industry rules that provide for timely dissemination of information, obtained from any